The GOP has another potential candidate, as former Tennessee senator and actor Fred Thompson finally announced his candidacy last night on The Tonight Show with Jay Leno. He also posted a web video announcing his run (below, right) that, among other things, took direct aim at Hillary Clinton.
Thompson on Leno: "I'm running for President of the United States. A lot of people have been, of course, running for some time. Everybody kind of changed the rules. Usually you don't announce until after Labor Day, but they started running a lot earlier, spending millions of dollars and so forth, and everyone said that you couldn't run this year without raising a hundred million dollars and starting much earlier. I don't believe that. I wasn't in the room when they made the rules; so I had to kind of follow my own lead. So we started around the kitchen table in late March talking about it, thinking about it, thinking about what kind of world and what kind of country our kids were going to grow up in and how many people have a chance to do something about it. And I decided that it was time for me to step up. So I did."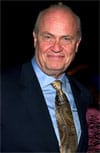 Thompson's voting record on gay rights is not surprising. He voted "no" on expanding hate crimes to include sexual orientation, he voted "yes" on DOMA, he voted "no" on a federal bill to prohibit employment discrimination based on sexual orientation, and his position on a federal constitutional amendment banning gay marriage is "against", preferring to let the states decide.
He has said: "I think that we ought to be a tolerant nation. I think we ought to be tolerant people. But we shouldn't set up special categories for anybody. And I'm for the rights of everybody, including gays, but not any special rights."
(Tonight Show video via Talking Points Memo)