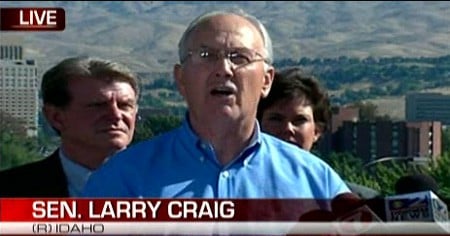 Idaho GOP Senator Larry Craig announced plans to resign from the Senate today, less than a week after news surfaced that he had been arrested in a Minneapolis airport men's room and had pleaded guilty to a disorderly conduct charge.
Craig's statement, made outside the Boise Train Depot:
"For most of my adult life, I've had the privilege of serving the people of Idaho. I am grateful for the opportunity they have given me. It has been a blessing.
"I am proud of my record and accomplishments and equally proud of the wonderful and talented people with whom I have had the honor and privilege to work and serve.
"I chose to serve because I truly love Idaho. What is best for Idaho has always been the focus of my efforts, and it is no different today.
"To the Idahoans I represent, to my staff, my Senate colleagues and, most importantly, my wife and our family, I apologize for what I have caused.
"I am deeply sorry.
"I have little control over what people choose to believe, but clearing my name is important to me and my family.
"Having said that, to pursue my legal options as I continue to serve Idaho would be an unwanted and unfair distraction from my job and for my Senate colleagues.
"These are serious times of war and conflict – times that deserve the Senate and our full nation's attention. There are many challenges facing Idaho that I'm currently engaged in, and the people of Idaho deserve a Senator who can devote 100 percent of his time and effort to critical state and national issues.
"Therefore, it is with sadness and deep regret that I announce that it is my intent to resign from the Senate, effective September 30. In doing so, I hope to allow for a smooth and orderly transition for my loyal staff, and for the person appointed to take my place at William Borah's desk. I have full confidence that Governor Otter will appoint a successor who will serve Idaho with distinction.
"I apologize to the people of our great state for being unable to serve out the term to which you have elected me. I hope you understand my decision to step aside.
"Few people have had the pleasure and privilege to represent Idaho for as many years as I have. Each day, each week, each year brought new challenges and opportunities to create a better life for Idahoans. I have enjoyed every moment and cannot adequately put into words how much I appreciate you giving me this chance. I hope you do not regret the confidence you have placed in me for all these years. I hope I have served you and our state to the best of my abilities.
"Lastly, Suzanne and I have been humbled by the outpouring of support we have received from our friends, our family, staff and fellow Idahoans – we are profoundly and forever grateful. Thank you."
Notes on a Scandal: Key Moments from the Week
Larry Craigs Post-Arrest Tape [tr]
Larry Craig Pressured to Resign by Republican Lawmakers [tr]
GOP Senator Larry Craig: I am Not Gay and Never Have Been [tr]
Larry Craig Releases Statement, Steps Down from Romney Campaign [tr]
GOP Idaho Senator Larry Craig in Lewd Conduct Men's Room Arrest [tr]