Kelly Ann Lynch, whose family was counseled over the years by gay priest Mychal Judge, has published a 32-page illustrated biography of the religious figure entitled He Said Yes: The Story of Father Mychal Judge
, the Associated Press reports: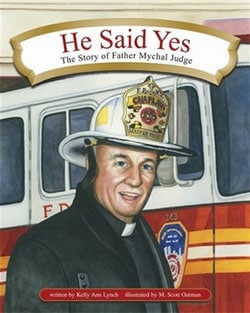 "Lynch, in a simple, straightforward style, details how Judge picked up congregants for his far-flung flock at every stop: suburban families and the homeless; AIDS patients and alcoholics; firefighters and a paralyzed police officer; the loved ones of those killed aboard TWA Flight 800. The tale ends on Sept. 11, 2001, when Judge became the first official victim of the terrorist attack that killed 2,750 people in the twin towers. His dying soon gave life to Lynch's remembrance."
Judge, whose passing last year was marked on the anniversary by a documentary, The Saint of 9/11, worked tirelessly in New York to help others overcome addiction, poverty, and personal struggles before he became a symbol of the selfless heroes in the WTC attacks. The film tried to make the case for Judge's sainthood.
Said Lynch of her new book: "Those first few weeks, it was hard to see anything good. It just felt so dark and so sad and so empty. He left behind a legacy for all of us. I took the most important parts of his story, and tried to simplify it. His story was meant to be shared. He made you feel that you were the one special person in his life. What we've come to realize, six years later, is that he did that for everybody. He was a constant presence."