A group of Iowans led by pig farmer Bill Salier has launched a campaign to impeach District Court Judge Robert Hanson, after his ruling last month briefly legalized gay marriage in the state.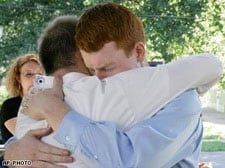 Salier, seen below leading Republican presidential candidate Tom Tancredo around his pig farm, runs the group, called "Everyday America".
Salier told Radio Iowa: "[Hanson is] using his own political agenda to advance what he wants to see out of his own social norms and his own personal viewpoints. That's legislating from the bench and overriding the authority of the elected individuals that the people of the state of Iowa put in charge. It's a mess beyond all portion (sic) all because they decided they were going to take the will of the people and they were going to take the law of the legislature and thwart it for their own agenda. This is an attempt to bring the judiciary back into check underneath its constitutional moorings and we're going to take this petition drive….to the leadership of the both the Republican Party and the Democrat Party in the House and Senate as well as the governor and encourage them to reestablish themselves as the leaders of the law in this state — the ones who actually create the law in this state."
"Everyday America" proudly posts the Constitution and the Declaration of Independence on its website, yet doesn't seem to espouse the view that all men are created equal.
Recently
Fred Thompson on Homosexual "Deviancy", Gay Marriage [tr]
Democratic Iowa Governor Chet Culver Supports Gay Marriage Ban [tr]
Two Men Married in Iowa's First Same-Sex Marriage [tr]
Judge Declares Iowa Same-Sex Marriage Ban Unconstitutional [tr]