New York City sees jump in HIV infections, particularly in those younger than 30.
20th annual Provincetown "Swim for Life" raises $170,000 for AIDS support groups.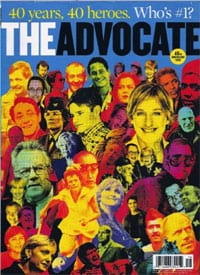 Queerty discovers where the Advocate's 40th anniversary cover found its inspiration.
Simon Cowell on the Britney bomb: "If I had been looking after Britney I'd have taken one look at her in rehearsals and I wouldn't have allowed her on stage. It would have been worth pulling her off the bill – no matter what the cost – to save any chance she had of resurrecting her career. She wasn't ready for that show in every possible way. The song wasn't right, the image wasn't right and she just wasn't rehearsed. If she had turned up and given that performance at the X Factor auditions then I wouldn't have put her through to the next round. The problem she has now is that she could have killed her career. It's difficult to come back from that performance, for a while at least." EW takes a look at some tracks off her new album.
Forget Hollywood's gay mafia. Welcome the Rubyfruit mafia.
Sugarland: Straight Brooklyn bar and pizza joint is transformed into gay club and performance space: "The crowd—attractive local hipsters, artists, club kids, and even a few yuppies—was torn. 'The skinny Williamsburg hipster fags need the carbs,' griped Earl Dax, a promoter and performance-art curator. Some wished for a happy medium. 'In a perfect world . . . ' sighed a man in a harlequin get-up with sad, wistful eyes. Justin Bond (of Kiki & Herb) found the solution: 'I've done performance where I strapped a pizza to me and then served it to the audience.'"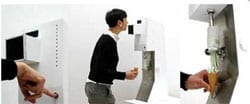 Ice cream dispenser offers miserable people a larger scoop: "Demitrios Kargotis unveiled his Mr Whippy machine at the Ars Technica festival in Linz. It's a self-serve frozen custard machine that doles out portion sizes based on the amount of misery it detects in a voice-stress analysis. The sadder you are, the more ice-cream you get. Employing voice stress analysis of the user's answers to specific questions, varying degrees of unhappiness are measured and the counteractive quantity of ice cream is dispensed: The more unhappy you are, the more ice cream you need."
At Heatherette: a patriotic Amanda Lepore busts out, and Chad White struts his stuff.
I reported on it briefly previously, but the web has grown more tangled, and Pam Spaulding at AmericaBlog attempts to untangle what may be the GOP's next big scandal.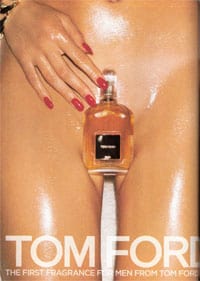 Tom Ford's fragrance for men certainly isn't for gay men.
Bush to announce drawdown of troops by 30,000: "House Speaker Nancy Pelosi, D-Calif., said Bush appears poised merely to bring the country back to where it was before the election that put Democrats in control of Congress _ with 130,000 troops in Iraq. 'Please. It's an insult to the intelligence of the American people that that is a new direction in Iraq,' she said. 'We're as disappointed as the public is that the president has a tin ear to their opinion on this war.'" Pelosi statement: "The Bush-Petraeus plan of 130,000 Americans in Iraq for 10 more years is not a reduction in our footprint; it is an insult to the intelligence of the American people to call that a new direction. It is a status quo plan that tells the Iraqi government that they do not need to change."
"Ex-gays" claim they were attacked by gay activists at the County Fair in Arlington, Virginia.
Anti-gay Fort Lauderdale Mayor Jim Naugle will be on Michelangelo Signorile's Sirius radio show today at 3:30 pm.