Attorneys for Larry Craig went to court in Hennepin County today to ask attempt to withdraw Idaho Senator Larry Craig's guilty plea for disorderly conduct stemming from his arrest in a Minneapolis airport men's room in June. The Associated Press is reporting that the judge has delayed his ruling on whether or not Craig can withdraw the plea: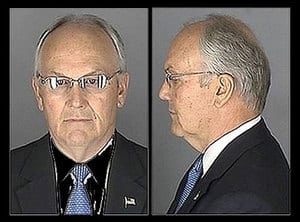 "Sen. Larry Craig's lawyers appeared in court Wednesday afternoon seeking to overturn his guilty plea in a men's room sex sting. But a judge made no immediate decision, saying he would issue a ruling no sooner than the end of next week. In a half-hour hearing, Hennepin County District Judge Charles A. Porter Jr. questioned Craig's Washington, D.C. defense lawyer, Billy Martin, repeatedly about Martin's interpretation of disorderly conduct and Craig's actions. Craig pleaded guilty to disorderly conduct after an undercover police officer arrested him June 11, saying Craig had solicited sex from him in a men's room at the Minneapolis-St. Paul airport."
The Idaho Statesman continues: "Craig says he plans to resign from the Senate on Sept. 30, but indicated that he might change his mind if his guilty plea can be withdrawn and he can clear his name. He said this week he won't resign until 'legal determinations'" are made, CNN reported Wednesday. This could mean Craig won't resign by his self-imposed deadline this Sunday. CNN quotes a 'political source involved in discussions about the case,' who said 'Craig has made it clear he wants to find a way to stay in office.'"
Craig was not present at the hearing today, on the advice of his attorneys.