The New York Times takes a look at life at the Capital Yacht Club, where Larry Craig makes his home in D.C., on a houseboat: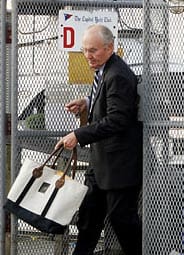 "Members typically make public few details about their nautical lives, and Congressional rules require them to disclose boats as assets only if they produce income or are bought or sold. Mr. Craig, who is known as exceptionally frugal, unwittingly called attention to the club when he gave the arresting officer in Minneapolis his club mail drop as a home address, 1000 Water Street SW. Mr. Craig, an outdoorsman who likes to fish and hunt, is a well-known figure at the marinas, where he has lived off and on during his Congressional career. Ed Johnson, a resident of the Gangplank Marina who has long known Mr. Craig, describes the waterfront as a fancy trailer park. Neighbors float only a few arms-lengths away from one another. Most shower in bathhouses, and, after hours, gossip over drinks."
Well, we now know what sold it for the Senator from Idaho.