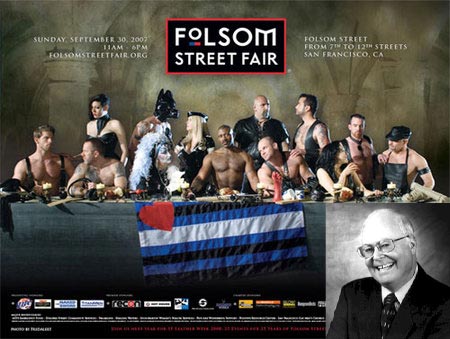 Catholic League president Bill Donohue has taken his displeasure with Miller Brewing one step further than asking them to remove their logo from this year's Folsom Street Fair "Last Supper" parody poster. He has contacted over 200 religious groups and called for a boycott of the company.
Writes Donohue: "This all started when we learned that Miller was sponsoring an event that featured an obscene ad thrashing the Last Supper. After being pressured, Miller offered a lame statement of regret and said it was pulling its logo from the ad. Not only has it not done so—it is still posted on the website of the street fair—Miller refuses to withdraw its sponsorship. To top it off, when we informed them that some of the money being raised at this festival was being funneled to the Sisters of Perpetual Indulgence, they were unimpressed. Accordingly, Miller leaves us with no options: we are calling on more than 200 Catholic, Protestant, Jewish, Muslim, Buddhist and Hindu organizations to join with us in a nationwide boycott of Miller beer. We feel confident that once our religious allies kick in, and once the public sees the photos of an event Miller is proudly supporting, the Milwaukee brewery will come to its senses and pull its sponsorship altogether. If it doesn't, the only winners will be Anheuser Busch and Coors."
Donohue is also extremely excited to show off the collection of Folsom Street Fair pictures he has amassed.
(via slog)
Background
Miller Pulls Logo from Folsom Ad Over "Last Supper" Parody [tr]
CWA Not Happy with "Last Supper" Ad for SF Folsom Street Fair [tr]