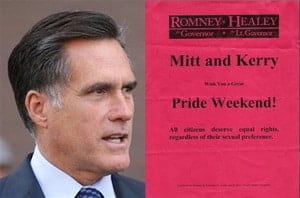 A new radio ad from Mitt Romney running in Iowa attempts to pull in support from Christian conservatives, using as bait the recent decision by Polk County Judge Robert B. Hanson to strike down the state's ban on gay marriage.
That decision has already prompted one conservative Iowa group to call for the judge's impeachment.
Wonder if they'd believe Mitt after seeing his Gay Pride flier?
Here's the transcript, via The Caucus.
ANNOUNCER: "In 2004, a judge in Massachusetts tipped the balance – paving the way to same-sex marriage for the first time in history.
"But the Governor of Massachusetts stood up, defending conservative values in our most liberal state.
"Governor Mitt Romney – he stood up for traditional marriage and fought the activist ruling every step."
GOVERNOR MITT ROMNEY: "The courtroom should be a place where laws are interpreted, not made."
ANNOUNCER: "Now, Mitt Romney is standing up for traditional marriage in Iowa, opposing the Polk County decision to permit same-sex marriage."
GOVERNOR MITT ROMNEY: "The court ruling in Iowa is just another example of an activist judge trying to find things in the Constitution that aren't there. As Republicans, we must oppose discrimination and defend traditional marriage: one man, one woman."
ANNOUNCER: "That's why Mitt Romney is supporting a Federal Marriage Amendment to the Constitution."
GOVERNOR MITT ROMNEY: "Not all Republican candidates for president agree, but defending marriage is the right thing to do."
ANNOUNCER: "Mitt Romney."
GOVERNOR MITT ROMNEY: "I'm Mitt Romney and I approved this message."
ANNOUNCER: "Paid for by Romney For President. MittRomney.com."
Romney's New Radio Ad on Gay Marriage [the caucus]
Romney targets gay marriage in new ad [ap]