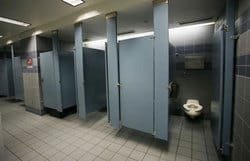 The Minneapolis Airport is installing new partitions between the toilets:
"Airport officials plan to put in new stall dividers just 2 to 3 inches above the floor, instead of as much as a foot now. The new dividers will go in two bathrooms where the airport has had complaints about sex, including the one where Craig was arrested."
Hmm. Guess he'll have to stop flying Northwest.