Polling agency suggests more than 1,000,000 Iraqi citzens killed since U.S. invaded Iraq.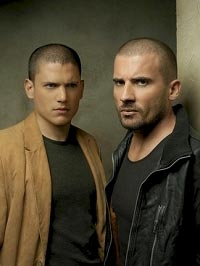 Wentworth Miller's Prison Break co-star Dominic Purcell gets behind actor's gay denial: "People like to jump to conclusions about him. Went is not gay. I've tried it on him many times and he just buffs me right back."

Will Elizabeth Taylor marry for the ninth time?

Gay soldiers react to bigoted comments by General Peter Pace. Antonio Agnone: ""I was actually shocked that he stumbled back into that area of questioning. When he talks about morality, that doesn't have any place. His personal beliefs shouldn't be what he's relying on a day-to-day basis. He broke regulations; he's not supposed to voice his personal opinion."

Democratic Leadership in the House considering dropping trans-inclusive language from the Employment Non-Discrimination Act. Lane Hudson: "Democrats in general have come under fire from gay activists and funders for a lack of action on legislative priorities such as ENDA and hate crimes. HRC has also come under criticism for the same lack of progress. Both are desperately in need of substantive victories to appease their constituencies. In addition, Speaker Pelosi is slated to receive a major award at HRC's National Dinner next weekend. It's unclear how she will be received in light of this development. All of this boils down to whether we should sacrifice transgender inclusion in the ENDA legislation in order to pass a bill in the immediate future. For me, the answer is simple. No one should be left behind at the convenience of others. It is a moral obligation and a defining moment in the movement for equal rights under the law."


Awards honor best science images of 2007.

Illegal immigrant loses life savings in pursuit of American Dream.

Matthew McConaughey looks awfully strange with clothes on.

Bill O'Reilly on critics of his Harlem restaurant remarks: "[I]f I could strangle these people and not go to hell and get executed … I would — but I can't. … All I can do is expose them. And I will."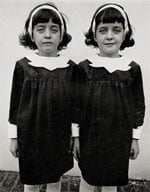 Remember the Diane Arbus twins? Now they're all grown up.

Iowa pastors plan October 28 rally supporting amendment to ban gay marriage: "This is not about hate but about differences of beliefs. God's word is clear to us that marriage is only between one man and woman."

Three women in Chicago accuse off-duty police officer of threatening them and roughing them up after this year's pride parade: "According to the lawsuit, a vehicle driven by Fuery came upon a car moving at 30 mph on Interstate 55 after the June 24 parade. Fuery beeped her horn, and Szura responded by slamming on his brakes, speeding up and switching lanes, making it impossible for Fuery to pass, the lawsuit said. Fuery was forced to the shoulder, where Szura screamed words such as 'dyke' and spit at her, according to the lawsuit. The women claim he stuck a gun in Fuery's abdomen, 'causing her to fear for her life.'"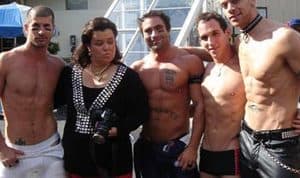 Rosie O'Donnell hangs with her Nip/Tuck castmates.

Meet Project Runway 4's Jack Mackenroth…

A look at at John Edwards' proposed HIV/AIDS program.

Anti-gay lawyer Jack Thompson may be brought down for presenting a judge with graphic gay porn photos as evidence in a suit against gay publisher Norm Kent.