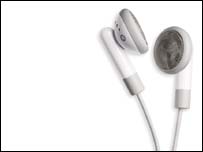 Please welcome Robbie Daw, who will be penning occasional music posts for us here on Towleroad! Robbie runs his own pop music site called Chart Rigger.
Venison, artichoke tapenade and Doritos? I guess at this point we shouldn't be surprised Amazon.com's got these items for sale. And starting today, one-stop shopping at the online store could be fully realized with the launch of Amazon MP3 Beta, a service offering MP3 files compatible with iTunes and Windows Media Player, free of Digital Rights Management restrictions (meaning you can play the tracks on iPods or any MP3 player, use them on multiple computers and burn them onto CDs as many times as you like). Amazon is offering up a library of more than 2 million songs, with their Top 100 downloads priced at 89 cents, while most others are 99 cents. The Top 100 albums are $8.99, while other albums range from $5.99 to $9.99.
Not all artists and labels are on board, though…especially not ones still requiring the DRM restrictions. A search for Justin Timberlake and Britney Spears, for instance, prompts a disclaimer noting that while Amazon doesn't offer these catalogs as MP3s, "more titles are being added daily". You're then presented with the offer to go back into the ol'-fashioned Amazon music store, where your Justin or Britney tunes are sure enough available on trusty CD. Just don't forget to throw the Doritos in your shopping cart.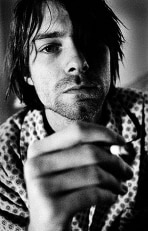 Duran Duran's new single "Falling Down," featuring and produced by Justin Timberlake, is available as of today from the U.S. iTunes store. The press release for DD's forthcoming Red Carpet Massacre album is up now on the band's official site, which reveals the writing and production credits for each track.

Kurt Cobain: About A Son, a documentary focusing on the late Nirvana frontman (pictured left), will see its U.S. premiere at the Los Angeles AFI Film Festival in early November. A year before his death in 1994, Cobain was featured in a cover story for The Advocate. Though he often had a penchant for exaggerating and twisting the truth in interviews, he did reveal the following: "I used to pretend I was gay just to fuck with people. I've had the reputation of being a homosexual every since I was 14. It was really cool, because I found a couple of gay friends in Aberdeen [Washington] – which is almost impossible. How I could ever come across a gay person in Aberdeen is amazing! But I had some really good friends that way. I got beat up a lot, of course, because of my association with them."

The New York Post is claiming that Madonna just might embark on a world tour starting late next summer, to coincide with her 50th birthday. This rumor wouldn't be too much of a stretch, given that she'll have no doubt released a new studio album long before that.

Ne-Yo has written songs for some of today's young crop of twentysomething divas: Beyonce, Britney Spears, himself. Below is the classy video for his duet with Rihanna, "Hate That I Love You," in which she flounces about half-naked on a bed and he strolls around town decked out like Cary Grant.
Foo Fighters' Echoes, Silence, Patience & Grace, produced by Gil Norton, who worked with the band on their 1997 album, The Colour And The Shape.
Songs About Girls, the first solo album from Black Eyed Pea Will.i.am.
Melissa Etheridge's The Awakening, her ninth studio album, and first post-breast cancer.
Sub Pop act Iron And Wine's The Shepherd's Dog.
"Gimme More," Britney Spears' new single. Originally to be released next week , perhaps Jive thought they'd better capitalize on the wave of publicity — albeit negative — while they can.
"Tattoo," the first single from American Idol winner Jordin Sparks' upcoming November release.