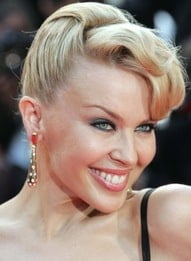 Please welcome Robbie Daw, who will be penning occasional music posts for us here on Towleroad! Robbie runs his own pop music site called Chart Rigger.
If you've got about $15.2 million stuffed under the sofa cushions, you could set yourself up to be the proud owner of Kylie Minogue's early back catalogue of songs. The Times reports that British producer Pete Waterman is selling the rights to his label PWL's biggest hits from the 1980s, including those off Minogue's albums with the company. (And, yes, "The Locomotion" and "I Should Be So Lucky" are on the table.) Heck, even though the sale includes recordings by other artists, it's strange to think Kylie herself hasn't plunked down the cash for the songs at this point.
In the meantime, the Aussie singer is gearing up to release "2 Hearts," her first single in almost four years. Due in early November, it's an overhauled version of a track initially performed by London outfit Kish Mauve. Kylie's tenth studio album is set for a November 22 European release.
Below is a clip of Kish Mauve's "Two Hearts" (the original). It's probably safe to assume Kylie ordered some extra drum machine on the side: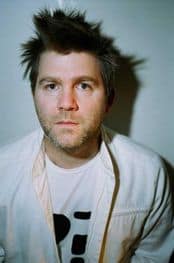 Sales figures indicate that Kanye West was simply harder, better, faster and stronger than 50 Cent (real name: Curtis Jackson). West's final tally for Graduation is expected to be around 800,000 copies sold in its first week, while 50 Cent's Curtis is estimated at 600,000. Billboard will publish the final results tomorrow. In the meantime, after being beat to the top of the U.K. album chart on Sunday, Jackson has now accused West's label Island Def Jam of chart-rigging.

James Murphy (left) and his New York-based act LCD Soundsystem are known for their lengthy songs, but the "disco symphony" 45:33 sets a new record for them. The longform track, commisioned from the dance/punk group by Nike for a promo campaign, was initially released exclusively as a download. Now a physical CD is being issued on Murphy's label DFA on November 13, along with three bonus tracks.

After declining to renew its contract with iTunes, Universal Music Group has hopped into bed with newly-launched free download site SpiralFrog Inc. With over 2 million songs being made available in the next few months, Spiralfrog.com is aiming to be a legit alternative to illegal file-sharing networks.

Radiohead have finally made their songs available for digital download, exclusively at U.K.-based online store 7Digital.com (which, unlike iTunes stores from other countries, is accessible to U.S. buyers). The band's songs are only being sold as bundles with their full albums, however, and not individually.

TODAY'S NEW RELEASES: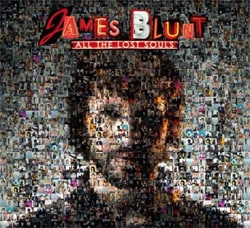 Sophomore albums from James Blunt (All The Lost Souls) and KT Tunstall (Drastic Fantastic).
Céline Dion's new single, "Taking Chances."
The soundtrack to the Sean Penn film Into The Wild, featuring original songs by Eddie Vedder.
Reba McEntire's Reba Duets, on which the flame-haired country diva gets some vocal help by Kelly Clarkson, Justin Timberlake, Carole King and Trisha Yearwood.
The Across The Universe soundtrack, which contains the actors' renditions of Beatles' songs.