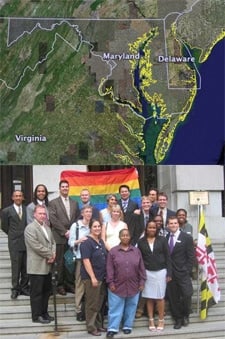 In January 2006, Baltimore Circuit Judge M. Brooke Murdock struck down a 1973 state law which defined marriage as between a man and a woman, saying the law was discriminatory and "[could not] withstand constitutional challenge." Murdock added: "When tradition is the guise under which prejudice or animosity hides, it is not a legitimate state interest." The case was brought by nine same-sex couples arguing that the Equal Rights Amendment in Maryland's constitution was discriminatory.
In December 2006, Maryland's highest court heard arguments in the appeal of that decision by the state.
The court issued their ruling today, and upheld Maryland's ban on same-sex marriage.
According to the AP, "Maryland's 1973 ban on gay marriage does not discriminate on the basis of gender and does not deny any fundamental rights, the Court of Appeals ruled. It also said the state has a legitimate interest in promoting opposite-sex marriage. The decision left open the possibility that the Legislature could still take action on the issue. 'Our opinion should by no means be read to imply that the General Assembly may not grant and recognize for homosexual persons civil unions or the right to marry a person of the same sex,' Judge Glenn T. Harrell Jr. wrote for the majority."
You may have missed…
Maryland's Highest Court Hears Gay Marriage Case [tr]