UK Stonewall equality organization announces award nominees: "Coronation Street actor Antony Cotton, comedian Sue Perkins, singer-songwriter Rufus Wainwright, rapper Mz Fontaine and The Feeling vocalist Dan Gillespie-Sells are nominated for Entertainer of the Year."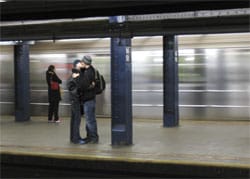 Can you hear me now? New York City subway stations to be wired for cell phone service: "The cellphone network will start in six downtown Manhattan stations in two years. Once it is shown to be working properly, Transit Wireless will have four more years to outfit the rest of the underground stations. Under the agreement, the first six stations are to be those at 23rd Street and 14th Street on the Eighth Avenue line, 14th Street on the Seventh Avenue line, 14th Street on the Sixth Avenue line, and Eighth Avenue and Sixth Avenue on the L line. All areas of the stations, including entryways, mezzanines, platforms and transfer passages, will be wired. The system will be designed to allow a seamless connection between the train and street level, so that users will not lose calls as they move in or out of the stations, according to Gary Simpson, president of Nab Construction, a Queens company that is a partner in the wireless venture."

Two elementary school boys charged with criminal sexual conduct after allegedly forcing another boy to perform oral sex during school bus ride.

Bette Midler, Cloris Leachman, Carrie Fisher, Lynn Whitfield, Joanna Gleason, Ana Gasteyer and Debi Mazar join Meg Ryan, Annette Bening, Eva Mendes, Debra Messing, Jada Pinkett-Smith and Candice Bergen in remake of The Women currently shooting in Boston.

Matt Damon: "After Iraq, the Bush administration disgusts me."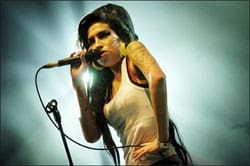 Amy Winehouse disappoints at Britain's MOBO awards.

Britney Spears continues downward spiral: heads to the club after judge accuses her of substance abuse.

Forget football. David Beckham to design costumes for the Spice Girls: "David has been helping out a lot ahead of the Spice Girls tour, which starts in December and has offered to give them fashion advice. He has been looking at pictures of Julien Macdonald's collection on the internet and has also studied other designer collections. He is drawing different strengths from various fashion designers, but obviously Victoria will have the final say."

Brazilian football player Richarlyson continues to be tailed by gay rumors.

Democratic Maryland Governor Martin O'Malley in shift on support of same-sex marriage. Backs civil unions now, following the Court of Appeals' recent decision to uphold the state's ban on same-sex marriage. Senate President deals second blow, says he won't support legislation to legalize same-sex marriage or civil unions.