Remains of human "hobbits" discovered in Indonesia.

L.A. Times no fan of Boy George's fashion line: "Been wondering what clever Boy George is up to lately? Of course, you haven't. Despite that, here's a sneak peek at his latest endeavor — a retro punk clothing line called B-Rude. We don't really want to hurt him (or his feelings), but this bright neon, ripped, safety-pinned sportswear is so been there/done that. It's a blatant rip-off of the late designer Stephen Sprouse's '80s collections…he only person I could see wanting to wear this stuff is teen idol/punkette poseur Avril Lavigne. Hey, she's already got the crass finger flip down pat."

Political fallout for San Diego Mayor Jerry Sanders unclear following his tearful press conference yesterday in which he changed his position and threw his support behind a resolution urging the California Supreme Court to overturn the state's ban on same-sex marriage.

Provincetown beachgoers receive retroactive nude sunbathing tickets from Cape Cod National Seashore undercover police.

The Bahamas Christian Council battling to keep LOGO off the air on Cable Bahamas. BCC PrResident John Humes: "I don't think it would be in the best interest for Cable Bahamas to proceed with incorporating this channel. There may be a market there but we already have enough problems with what we have now [in terms of channels on Cable Bahamas]. And to bring a gay agenda into the mix, we will not stand by idly and allow that to happen, for sure."


Britney Spears' patience with the media is wearing thin.

200 rally in Hollywood marriage equality protest at Arnold Schwarzengger's Walk of Fame star.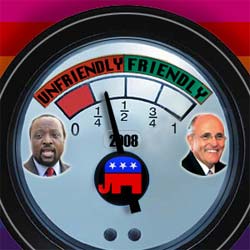 Salon's Gay Guide to the GOP: "On one end, there is Rudy Giuliani, a former New York mayor who has lived with gay friends, favors gay domestic partnerships, and sometimes dresses in drag. At the other end, there is Alan Keyes, who calls lesbians 'selfish hedonists,' even though his only daughter is a lesbian. There exists, shall we say, a veritable rainbow of variation in between."

Brady Bunch shocker: Behind-the-scenes "sexual hijinks" between Marcia and Jan.

World Cup of gay soccer to kick off in Buenos Aires.

20/20 to cover "ex-Gay" conference Love Won Out tonight: "It's about people who have to make tough choices in their lives."

UK schools urge police intervention in cyber-bullying cases: "The threat of legal sanctions on top of school disciplinary measures, including the confiscation of mobile phones and temporary bans or restricted access to the internet, is recommended in far tougher guidance to combat the increasing incidence of this form of bullying. Research for the new campaign found one in three 12-15-year-olds reported having been cyberbullied, a higher proportion than other surveys. Teacher unions, too, say members are being subjected to demeaning and offensive attacks through pupils' videos and comments on websites."