Idaho Senator Larry Craig returned to Washington D.C. for the first time since the Minneapolis men's room scandal that forced his resignation from the Senate.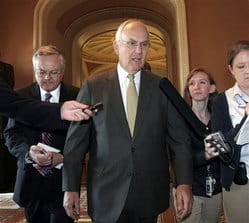 The AP reports: "Craig was back at the Capitol 'representing Idaho, working on transition, and meeting with his legal team,' spokesman Dan Whiting said. Craig arrived in the Senate chamber around noon to vote and receive greetings from fellow senators, including GOP leader Mitch McConnell, R-Ky., Mary Landrieu, D-La., and homestate Republican colleague Mike Crapo. Other colleagues, such as John Ensign, R-Nev., and John McCain, R-Ariz. — both of whom criticized Craig in the aftermath of the scandal — seemed to deliberately avoid the disgraced Idahoan and at times he stood awkwardly alone."
A Hennepin County District Court judge is scheduled to hear arguments regarding Craig's withdrawal of his guilty plea on September 26. Craig's spokesman has indicated that the outcome of those hearings may affect his decision to retire from the Senate. The ACLU recently announced that they would defend Craig, saying the sting operation used to apprehend him was unconstitutional.
No word on whether Craig had any layovers on the journey back.