Speaking at a school graduation ceremony in Phnom Penn today, Cambodian Prime Minister Hun Sen told those gathered that he was cutting off contact with his daughter because she is a lesbian.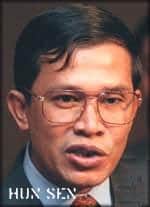 Said Hun Sen to the 3,000 assembled: "My adopted daughter now has a wife. I'm quite disappointed. We are concerned that she might one day cause us trouble … and try to stake her claim for a share of our assets."
According to the AP: "The prime minister and his wife Bun Rany have three sons and two other daughters. He said they adopted their third daughter in the mid 80's when she was 18 days old. She has carried his family name 'Hun' just like his biological children. Hun Sen did not reveal her given name."
Hun Sen reportedly then "said he was not discriminating against gays and appealed to society to show respect for them" according to the media outlet.
The Bangkok Post offers an alternative translation: "My daughter has married a woman … Now I just asked the court to cut her out of the family. I was disappointed. I can educate an entire nation, but I cannot educate this adopted daughter."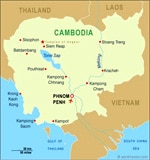 They add, "Hun Sen spoke about his personal struggle, saying media and other educational forums had taught him it was okay to be gay, but when it happened in his own family, he 'did not know how to do.'"
Comments about his daughter were reportedly omitted when the speech was aired on state media.
The non-profit Cambodian gay rights group Women's Agenda for Change reportedly "applauded" Hun Sen's comment on discrimination but said nothing about the daughter.
Homosexuality is legal in Cambodia, but the nation has no laws regarding same-sex marriage.
In 2004, Cambodia's King Sihanouk spoke out about gays and lesbians, saying "I am not gay, but I respect the rights of gays and lesbians. It's not their fault if God makes them born like that."