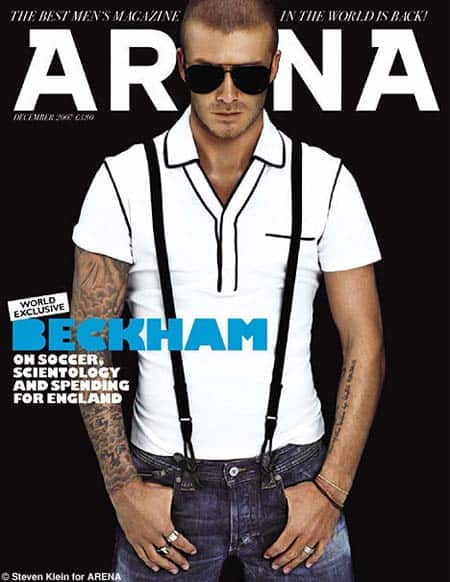 This month, British men's style magazine ARENA is having a relaunch, with L.A. Galaxy's sometime player David Beckham on its cover. In the issue, Beckham discusses life in Hollywood, as well as his close friendship with TomKat: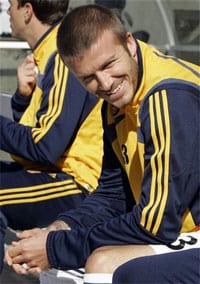 "We respect their religion. We respect everything they do and believe in. But they have never turned around to us and said, 'You have to be a part of this', because that's not what they're about. It's never been about that. There's been nothing shoved down our throats because friends don't do things like that. They are amazing people who are just so positive about life and they have been great to us."
Beckham recently announced that he would make his final appearance for the Galaxy this season in a charity match that would pit the Galaxy against "Hollywood United FC" to raise money for the Red Cross and Salvation Army to help wildfire victims.
According to the AP: "The Hollywood lineup is expected to include actors Anthony LaPaglia, Jimmy Jean-Louis and Costas Mandylor; musicians Steve Jones and Vivian Campbell; and former World Cup players Frank Leboeuf, Richard Gough, Joe-Max Moore and Eric Wynalda. Former Galaxy standouts Lalas and Mauricio Cienfuegos also are set to play."
If Beckham is such good friends with TomKat, why aren't they playing, along with Posh, Marc Anthony, and J Lo? Why not throw a few more paparazzi nutjobs in there as well? Now that would really raise some cash.