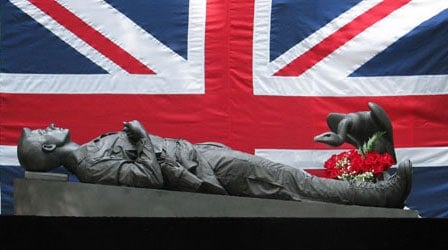 A dead Prince Harry is featured in "a memorial honoring those willing but unable to serve in the Iraq conflict" by sculptor Daniel Edwards, scheduled to be unveiled at the Trafalgar Hotel on October 11.
"The Memorial features Prince Harry laid out before the Union Jack with pennies placed over his eyes and head rested on the Bible. The statue suggests the tragic outcome of a confrontation in Iraq's Maysan Province with the Iranian weapons smugglers for whom Harry's tank regiment was scheduled to patrol. Prone with his unfired gun still holstered, Prince Harry is represented clutching a bloodied flag of Wales, and holding to his heart a cameo locket of his late mother, Princess Diana, while a desert vulture perches on his boot. Harry's head is earless, denoting the explicit threats against the Prince from militia leaders saying they planned to send him back to his grandmother 'without his ears.'"
The clay mold pictured here still has the ears, but according to Radar Online they are to be removed…and sold on eBay.
And, pardon me for noticing, but it looks as if there is something going on in Prince Harry's trousers (click on left shot, below).
You may remember Edwards for his oh-so-subtle takes on Britney Spears giving birth, a Paris Hilton autopsy, and Suri Cruise's poop.