Fraud at the highest levels.
The Federal Emergency Management Agency apologized Friday for a hastily organized news conference on the California wildfires in which they had their own staffers pose as reporters because no actual news media was on the scene at the time. FEMA also posed questions to which deputy administrator Harvey Johnson provided self-congratulatory answers.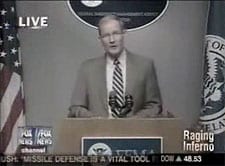 Reuters reports: "The agency had called the briefing with about 15 minutes notice as federal officials headed for southern California to oversee and assist in firefighting and rescue efforts. Reporters were also given a telephone number to listen in on but could not ask questions. But with no reporters on hand and an agency video camera providing a feed carried live by some television networks, FEMA press employees posed the questions for Johnson that included: 'Are you happy with FEMA's response so far?' According to Friday's [Washington Post] account, which Walker confirmed, Johnson replied that he was 'very happy with FEMA's response so far.' He also said the agency had the benefit of 'good leadership' and other factors, 'none of which were present at Katrina.' Chertoff was head of the Homeland Security Department during Katrina."
Chertoff's office called the handling of the news conference "inexcusable and offensive."
MSNBC has a transcript of the fake news conference.
You may have missed…
Milwaukee Pastor Blames California Wildfires on Tolerance of Gays [tr]
Evacuation Nightmare as Wildfires Sear Southern California [tr]