Please welcome Jon Barrett, with this week's tech news including the arrival of Leopard, Apple's new operating system, a way to bend your rooms the way you see fit, a look at the MySpace creator, and perhaps the weirdest email app we've ever seen.

Apple's OS X.5 operating system, Leopard, hits store shelves this evening (mine is somewhere in Indianapolis according to the FedEx tracker) and it's getting a thumbs up from most reviewers. David Pogue of The New York Times says, "Leopard is powerful, polished and carefully conceived. Happy surprises, and very few disappointments, lie around every corner." While Walter Mossberg of the Wall Street Journal reports, "It is an evolutionary, not a revolutionary, release. I believe it builds on Apple's quality advantage over Windows."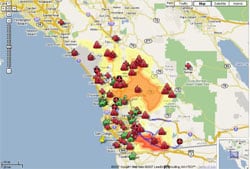 Google Maps and Twitter were critical tools in getting emergency information out to those effected by the firestorms in Southern California this past week. KPBS, a public TV and radio station in San Diego, used a mash-up of fire information with Google Maps to tell residents which neighborhoods were to be evacuated, which roads were closed, and the location of the nearest evacuation center, Information Week reports. The station also had nearly 600 people signed up to receive Twitter updates on their cell phones. Regular Joes were running to the microblogging service Twitter to post their own news as well. Wired cited two such residents, Nate Ritter and Dan Tentler. Ritter, whose reports can be found here, posted every bit of news he heard from TV and radio, along with instant message and SMS text messages from friends, on the site. Tentler hit the streets, reporting what he saw on Twitter and on his Flickr page.


The crime rate in Japan is significantly lower than that in the U.S., but it's evidently high enough to trigger one of the most creative crime-fighting measures ever: the soda machine disguise. The outfit, which is designed for women, looks like an ordinary skirt under normal circumstances. But when flipped inside out, it turns its wearer into a vending machine, presumably to fool would-be rapists or muggers. As Switched.com wrote, "Only in Japan, folks, does the old 'no one here, just us Coke machines," work.

Staying on the other side of the world, the owners of a New Zealand-based boutique brewery are looking for their stolen laptop, and they're offering a life-time supply of beer (provided you don't plan on drinking more than 12 beers a month for the rest of your life) to the person who turns it in. So if you find a Dell Inspiron 5150 with a bunch of beer stuff on it, give them a shout at feedback@croucherbrewing.co.nz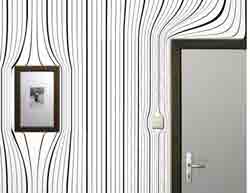 If you're into drug-free acid trips, check out this wallpaper from German surrealist artist Tom Hanke. The warping wallpaper, which comes in any pattern you wish, appears to be bending and bulging to fit your doors, windows, pictures, or anything else you've got on your wall. The trick? As Gizmodo explains, "Your walls are first covered in a grid. A computer (along with the artist) determine exactly how much influence your objects have on the grid. Then, this grid distortion is applied to the wallpaper pattern of your choice." No word on how much this all costs.

Thanks to $18 million and 12,000 mini cameras, the 1.5 million people who use the Toronto transit system every day–whether by bus, streetcar, or subway—will be photographed as they do so, beginning in June.

Organizers of Lights Out SF are calling last Saturday's event a success. The group intends to get San Franciscans, on several nights throughout the year, to turn off their lights for one hour and to change at least one light bulb in their home or office to compact fluorescent bulbs. The next Lights Out SF night is March 29. See photos from Saturday's black-out here.

Happy birthday iPod! If only I had been so successful at age six.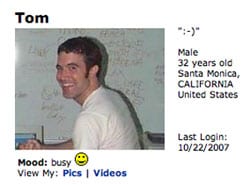 Do you have a warm feeling for your first MySpace friend, Tom Anderson. Would that feeling be any different if you found out he wasn't really 32, as his profile lists, but closer to 40? Word is that Julia Angwin, a writer for the Wall Street Journal, is working on a book about the MySpace creator that uncovers, among other things, that he's older than he says he is. I wonder if his profile also says "No fats, no femmes."

Dated one too many players? You might want to give PlayerBlock a try. It's a new text-messaging service that, for $4.99 a month, helps you check up on potential dates. Text in his cell number and find out what others have to say about him. You can text in your own experience as well. Not sure how versed PlayerBlock is on the whole man-on-man thing, though. If you've tried it, let us know.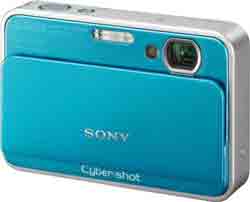 Sony just announced a new Cyber-shot digital camera that has four-gigabytes of on-board Flash storage. That means you can take a ton of shots without ever having to buy a memory stick. Other features of the Cyber-shot DSC-T2, which is supposed to hit stores in December with a $350 price tag: 8 megapixels, a 3x optical Carl Zeiss zoom lens, a 2.7-inch touch screen, and range of color choices.

And now for something as foolish as it is fascinating (OK, maybe a little more foolish): A company called 3D Mailbox is releasing an email program that makes sending and receiving your emails a 3D experience. Basically, instead of opening Entourage or Gmail you open a simulated version of LAX. As mail is sent to you, it arrives looking like an airplane. Still with me? Here's how 3D Mailbox describes it: "Email meets flight sim. In Level 2 of 3D Mailbox, each of your emails is represented by a jumbo jet. Based on the country of origin/destination, over 80 national airlines are employed, along with thousands of real pilot-controller conversations. Cargo jets haul your attachments, and the integrated SpamBayes spam filter sends your junk to the airport boneyard." Makes perfect sense, right? Check out a video demonstration below.
S P O N S O R …
Newegg.com is back again sponsoring Towletech. Yeah!
Advertise here with ModurbanMedia > Select.