Former Parti Quebecois leader Andre Boisclair, who resigned as leader in May after elections in which his party had the worst showing in decades, has announced that he is quitting politics, effective November 15th. On that date, he'll give up his seat as Member of the National Assembly for Pointe-aux-Trembles.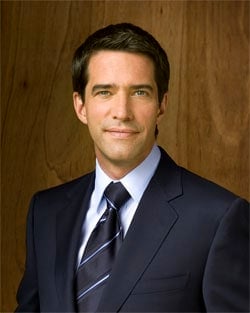 CTV reports: "A career politician, first getting elected at age 23, Boisclair had been a cabinet minister in the PQ governments of Lucien Bouchard and Bernard Landry. After the 2003 provincial election, Boisclair studied at the prestigious John F. Kennedy School of Government at Harvard University. He was going to take a job in the corporate sector in Toronto when Landry quit as party leader in 2005. Boisclair bested Marois to take the leadership."
Boisclair's tenure was marked by several controversies which included his appearance in a Brokeback Mountain sketch on Canadian TV.
The sketch featured George Bush and Canadian Prime Minister Stephen Harper shirtless inside a pup tent. George Bush fondled his nipples before throwing two cherries at Harper. The cherries then appeared strategically placed atop two mounds of whipped cream on Harper's chest. The tent unzipped and Boisclair, peeking his head through, said "Quebec won't get mixed up in something like that." The sketch, of course, was immediately broadcast over Canadian news networks, prompting criticism from those who felt that Boisclair's participation was not fitting of a statesman.
Boisclair also made news in the run-up to his election, when he acknowledged that he used cocaine. Rather than dampening his efforts, however, the confession caused his numbers to soar in the polls. At that time, a former cabinet member said, "We Quebecers fancy our heroes a little bit cheeky, defeatist, hesitant, unsure of themselves, alcoholic, a little or even a lot unreliable, a little bit fraudulent or even a little drugged. We like to say they are like us."