High school student paper editorial "characterizing homosexuals as victims of reproductive error or an unwanted upbringing" causes firestorm in Georgia: "Principal Trudie Donovan said Monday that she had reviewed the article before it was published last Friday, but said she had no authority to censor it. 'My job is the safety and security of the school, not censorship,' she said. Cobb County schools spokesman Jay Dillon said principals have no legal standing to say articles of student opinion can't be printed. Under court rulings and school district policy, students can express their opinions and ideas publicly, privately, orally and in writing. 'There may be no interference with that, even if a student's opinion is unpopular,' he said."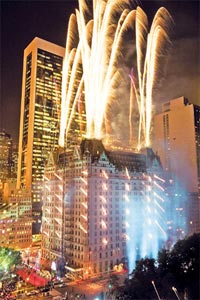 New York's Plaza Hotel celebrates 100 years: "After the park-facing façade of the Plaza Hotel had glowed with the number '100,' after white and gold jets of light had been launched from the roof into the dark October sky, and after a pigeon and a heart-shaped balloon had flown past the 12th floor, suddenly flashes of white light, syncopated to the strains of 'One' from the Broadway hit 'A Chorus Line,'burst from the windows of the venerable hostelry-turned-hotel-and-condominium."

Sexual orientation hate crimes bill launched in Scotland.

Britney Spears has what some might call her darkest day yet but goes out partying anyway.

Queer Eye stages "Straight Guy Pageant" to kick off new season.

Elton John asks gallery to shutter exhibition that showcased the Nan Goldin portrait seized in a child pornography probe.

Lost writers/producers Carlton Cuse and Damon Lindelof give up some tidbits about the show's upcoming season.

After appeals court ruling, Yale to allow military recruiters on campus: "At question is a statute called the Solomon Amendment, which allows the federal government to withhold funds from universities that do not extend the same welcome to military recruiters as they do to other recruiters. Since 1978, Yale Law School has required recruiters to sign a pledge of nondiscrimination. Military recruiters would not do that because of the Defense Department's 'don't ask, don't tell' policy, which permits homosexuals to serve in the armed forces as long as they keep their sexual orientation private."

Vanity Fair to tell the completely unsavory and unsurprising tales of boyband manufacturer Lou Pearlman.

The next 25 years of video games.

Chris Crocker speaks out about nude pictures circulating on the net: "I obviously did this behind my parents backs and I am truly embarressed for myself and my family at this time, but I just wanted to clear the air and let anyone and everyone know, that has saved these pictures that it is illegal seeing as though I was 17 at the time, so when you brag that you 'saw Chris Crocker naked!!!'..what you're really bragging that you saw a 17 year old me naked."