The Iowa Catholic Conference, board, made up of the state's four dioceses, has issued a statement calling for a constitutional amendment banning same-sex marriage in reaction to Judge Robert Hanson's August ruling and subsequent order that Polk County begin marrying gay people. The ruling was almost immediately stayed, but not before one couple, college students Tim McQuillan and Sean Fritz, was married.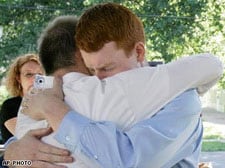 Said the Catholics: "Marriage between a man and a woman is a good from the perspectives of both natural law and our Catholic faith. "Society has chosen to protect and promote marriage because of its unique contribution to the common good…Neither church nor state can alter the basic meaning and structure of marriage. In a manner unlike any other relationship, marriage makes a unique and irreplaceable contribution to the common good of society, especially through the procreation and education of children."
Hanson's ruling has been appealed.
This weekend, there was an enormous religious rally against same-sex marriage outside the Maple Street Missionary Baptist Church in Des Moines. 1,200 people attended.
The Des Moines Register reports: "The group — from churches throughout Des Moines — came for a prayer rally at the east-side church to urge the Iowa Supreme Court to rule against a Polk County judge's decision that Iowa law improperly prohibits same-sex couples from marrying. 'is is more than a political battle,' said the Rev. Keith A. Ratliff Sr. of the Maple Street Missionary Baptist Church. 'This is a spiritual battle.'"
In other Catholic/Gay news, Deb Price of the Detroit News writes about Fortunate Families, a group for Catholic parents of gay children who have made it their mission to transform the church. Says one parent: "We believe we are the church. And if we didn't work to have our children recognized as whole and holy members of the church, then we are complicit with the injustice. So if we stay, we must speak."
Fortunate Families [website]
You may have missed…
Iowa Group Moves to Impeach Judge Who Allowed Gay Marriages [tr]
Democratic Iowa Governor Chet Culver Supports Gay Marriage Ban [tr]
Two Men Married in Iowa's First Same-Sex Marriage [tr]