Please welcome Robbie Daw, who will be penning occasional music posts for us here on Towleroad! Robbie runs his own pop music site called Chart Rigger.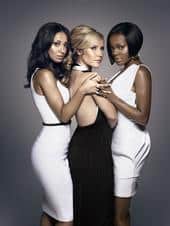 This week, pop/rock/electro trio (as they're billing themselves these days) Sugababes celebrate the triumph of having both the #1 single ("About You Now") and #1 album (Change) on the official U.K. charts. It's no small feat, as the 'babes have been around long enough to issue five LPs and the ubiquitous greatest hits, and have surpassed the typical sell-by date that sees most pop acts reduced to subpar reality show stints.
But "About You Now" — written by Cathy Dennis (yes, that Cathy Dennis, who had the early '90s green-bodysuit solo career and later penned Britney's "Toxic" and Kylie's "Can't Get You Out Of My Head") — actually marks the Sugababes' sixth British #1. In their home country, they've had more hits than the Spice Girls, and this year they became the first pop act to play the main stage at the Glastonbury Festival.
So where's the love for the curvy threesome in the States? In recent years, urban-heavy American radio has warmed up again to British acts, such as Coldplay, Natasha Bedingfield, James Blunt and Amy Winehouse. Sugababes (aka Keisha, Heidi and Amelle) write a majority of their own material, and certainly their R&B-tinged pop merits them being a shoo-in for at least a hit or two on these shores.
Granted, the gals don't play their own instruments, but then again, you never saw Beyoncé or Kelly Rowland shredding a whammy-bar-kickin' guitar solo, either. It just seems that in a land where the only thing passing for fun pop on the American charts these days is Britney Spears, surely we should welcome the Sugababes with open arms.
Here's the video for "About You Now":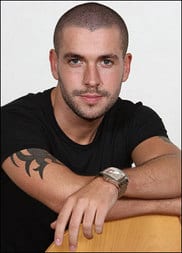 Rufus Wainwright does Judy! Judy! Judy! on CD and DVD this December.

Morrissey performs a new track on Last Call With Carson Daly while Johnny Marr goes back to school and receives top honors.

British pop star and X Factor winner Shayne Ward (pictured left) turns 23.

Rapper Nas chooses yet another eyebrow-raising album title.

Annie Lennox and Peter Gabriel to headline South African HIV/AIDS benefit concert for Nelson Mandela's 46664 campaign. Lennox writes about her involvement with the campaign as a 46664 ambassador in the November issue of Instinct magazine.

U2 to reissue four different versions of The Joshua Tree in November for the set's 20th anniversary.

The successful life and quick death of the nationwide Buffy The Vampire Slayer sing-alongs: "I was under the impression that everything we were doing was completely legal and had been cleared by the appropriate people," says Buffyoke organizer Clinton McClung.

Post-rehab, Amy Winehouse and Pete Doherty record a song together.
The Killers' new single, "Shadowplay" — a Joy Division cover featured on the Control soundtrack as well as the forthcoming Killers' collection of B-sides and rarities, Sawdust (due November 13).
Thirty years after its initial release, iTunes adds Never Mind The Bollocks Here's The Sex Pistols.
Soul singer Angie Stone's The Art Of Love And War, from the newly relaunched Stax label.
The album/DVD combo R.E.M. Live.
Jimmy Eats World's Chase This Light, exec-produced by Nirvana and Smashing Pumpkins producer (and Garbage member) Butch Vig.
Ultimate Santana, featuring the guitar legend's greatest hits and new tracks with Chad Kroeger and Jennifer Lopez.