Republicans have no idea what to do with the Senator from Idaho who is digging in his heels: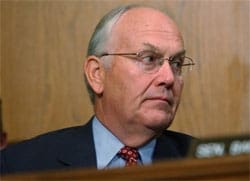 "The Idaho Republican's decision gives his GOP colleagues two unpleasant choices. They can resume pressuring him to leave, and risk being seen as disloyal politicians who go harder on alleged homosexual misdeeds than on heterosexual wrongdoings. Or they can basically ignore him for months, and endure more TV comics' taunts about a conservative senator convicted in a case involving public bathroom stalls. Judging from comments in the first hours after Craig's announcement, Republican senators seemed unsure exactly where to land. Outright confrontation with Craig, however, seems unlikely."
Senate Minority Leader Mitch McConnell, who has branded Craig's conduct as "unforgivable", canceled a press conference yesterday and declined comment on Craig's recent decision.
Yesterday…
Larry Craig Reacts to Court Ruling: I'm Not Going Anywhere [tr]
Judge: Idaho Senator Larry Craig Cannot Withdraw Guilty Plea [tr]