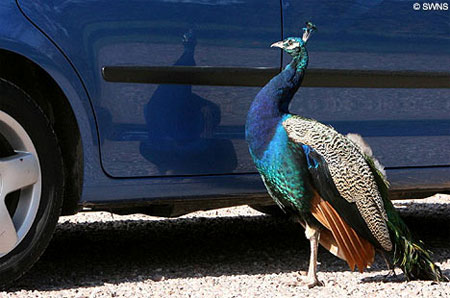 A peacock owned by British aristocrat Sir Benjamin Slade has caused $8000 worth of damage to one of his employee's cars because, Slade says, the peacock mistook the "peacock blue" Lexus for a mate. Because female peacocks are usually brown in color, Slade thinks the peacock is gay: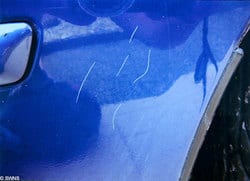 "It started when he fell in love with this Lexus, which was in a very distinct peacock blue and looked like another peacock boy. He couldn't control his urges and tried to shag it. He attacked the panels so hard that the car needs a total respray. The insurers, Lloyd's of London, are not very happy about it. They've had claims for all sorts of things like lions biting people, but never have they heard of a peacock sexually attacking a car before."
However, Ornithologist Quenton Spratt, at the Royal Society for the Protection of Birds, has a more reasonable observation: "I've come across this in the past. I suspect the peacock thinks the car is a bird. They are very territorial and will try to fight the car off by pecking it, as they would with another bird. Blue cars probably compound it, as they associate bright colours with a male. Peacocks have very sharp spurs and can do some real damage."
That said, perhaps the only thing that the incident really proves is that peacocks have pea brains.