Same-sex marriage in Sweden closer to reality? "Sweden's three opposition parties, the Social Democrats, the Greens and the Left Party have put forward a motion in the Swedish Parliament to allow gay marriages. There is wide support in the parliament for the move, with the only party against the plans the Christian Democrats. They are also in a minority in the government, with three out of four of the ruling parties also in favour, but the Christian Democrat's opposition means the government is unable to put forward a motion itself."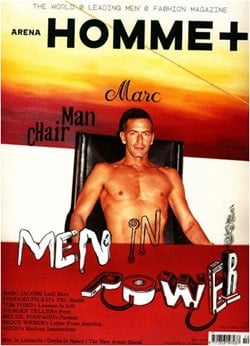 Marc Jacobs strips again for the cover of Arena Homme +

Astroglide: Barbara Walters reportedly gave sexual lubricant recommendations to Rosie O'Donnell.

Lance Bass in shouting match with companion outside NYC's Barracuda bar: "He was creating a commotion, and then he and Lance took it outside. They fought outside, screaming at the top of their lungs."

Memorial held in NYC for gay club icon Dean Johnson. Friend: "I never felt as comfortable as a straight guy in a world where I wasn't supposed to be than with Dean. When I met Dean, I realized what being free is all about. He never judged anybody, and he never cared about being judged."

It's Britney's video, bitch!

Condoleezza Rice's female friend Randy Bean, with whom she owns a house in Palo Alto, California, responds to rumors that the two women are a couple: "Condi and I have been friends for 25 years. We co-own an investment property in Palo Alto. We do not share a home."

On the planning of an LGBT Wedding magazine.

Responding to GLAAD, the New York Post apologizes for calling a transgender person a She-Male.

SLOG's Dan Savage talks to Stephen Colbert on The Colbert Report.

The Provincetown hate crimes have caught the attention of Boston's newsweekly The Phoenix.

Here's the Nan Goldin photograph, "Klara and Edda Belly Dancing", that was seized by police from a show of Elton John's collection. Elton shuttered the gallery exhibition due to the investigation, which alleges the photograph breaches child pornography laws.

Gay foster parent ban may hit the 2008 ballot in Arkansas: "Attorney General Dustin McDaniel approved an initiative Thursday, which will allow supporters of the ban to collect signatures in support of placing the issue on a ballot. Now that their initiative has been approved, the Family Council Action Committee must collect at least 78-thousand votes in order to get their proposal on the 2008 ballot. It was struck down by the state Supreme Court in 2006 and failed in the state legislature during the 2007 session, so proponents of a ban on gay and unmarried foster parents decided to take the issue to the voters. After one failed attempt in September, the Family Council Action Committee got their initiative approved on Thursday."

Recent paparazzi photos of Jennifer Aniston and Orlando Bloom in Mexico which sparked relationship rumors have a backstory: they were at the 'gay power wedding' of friends Luc Brinker and Todd Diener in Mexico.