Representative Barney Frank will appear on Michelangelo Signorile's Sirius radio show at 5:15 pm EST today to talk about the controversy surrounding the ENDA legislation. Jon Davidson of Lambda Legal will be on before Frank, starting at 3:30 EST. You can get a free three-day pass to Sirius here.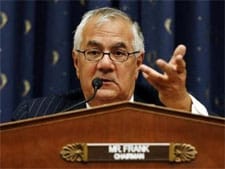 A week ago, Frank announced that transgender-inclusion in the LGBT anti-discrimination legislation would be cut because the bill would not have enough votes to pass with transgender people included.
This, understandably, set off a firestorm in the LGBT community.
On Monday, the House voted to postpone action on ENDA pending further assessment of reaction from the LGBT community.
I've tried to gather some of the pieces I've run across regarding the controversy:

Lambda Legal's Open Letter to Barney Frank [PDF]


Barney Frank on Lambda Legal's analysis [bilerico project]


Lambda Legal Responds to Rep Barney Frank [bilerico project]

Sole transgender HRC board member Donna Rose on her resignation over HRC's position:
Donna Rose statement [out for democracy]

United ENDA Forms [ngltf]


HRC Launches Full-Scale Nationwide Call to Action in Support of Inclusive ENDA [hrc]


The difficult discussions people don't want to have [pam's house blend]


Gabriel Rotello: If ENDA Doesn't Protect the Transgendered, It Doesn't Protect Me [huffington post]


John Aravosis: The Transgender Fiasco [americablog]


Waymon Hudson: Accept No Substitutes: Stripped Down Version of ENDA is Dangerous and Wrong [bilerico project]


Libby Post: The Party Never Really Started [pageoneq]