The debate is over (for now) in Singapore, where the nation's Parliament just decriminalized oral and anal sex for consenting heterosexual adults but refused to do the same for gays. Gay sex remains punishable by two years in prison there.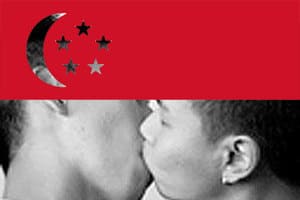 Australia's Daily Telegraph reports:
"Member of Parliament Siew Kum Hong, who supported the petition, said legalising sexual acts between two consenting heterosexual adults, while refusing to decriminalise the same acts between homosexual men, was discriminatory. But Prime Minister Lee Hsien Loong weighed in for the retention of the law, saying that Singapore remains a conservative society – with the traditional family as its main building bloc – and homosexuals cannot set the tone for the mainstream. Abolishing the law could 'send the wrong signal' and push gay activists to ask for more concessions, such as same-sex marriage and parenting, Mr Lee said. Gays 'are free to lead their lives and pursue their social activities,' the Prime Minister said, citing the existence of gay websites and gay bars. 'But there are restraints, and we do not approve of them setting the tone of mainstream society,' he said. 'They live their lives, that's their personal space. But the tone of the overall society, I think, it remains conventional, it remains straight and we want it to remain so.' Lee said keeping the statute unchanged, while not aggressively enforcing it, remained the best option."
Sure, give 'em their websites and bars, but the right to love one another as human beings? Forget it. Reminds me a bit of this moment from John McCain.
The largest review of the nation's Penal Code in 22 years had been marked by vigorous debate over the issue, including an online petition signed by over 8,000 people.