Desperate Housewives creator Marc Cherry talks to USA Today about Bob and Lee, the gay couple who recently moved on to Wisteria Lane. If you've missed the clips, I posted them here and here.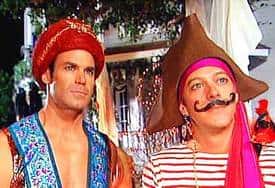 Cherry reveals a hint at what's coming up for the couple on the show, as well as who they're named after: "Cherry, who named the characters after ABC journalist Bob Woodruff and his wife, Lee, after meeting them at a dinner, says he and his writers are still developing Bob and Lee's story lines — which, in keeping with the neighborhood, include at least one secret between the couple and a story line involving their roles in helping rebuild the community after a tornado. That plotline may help them in a community that ostracized them in last Sunday's episode, after they placed a huge, hideous, metal-sculptured fountain in their front yard."
Said Cherry: "In capturing the gay suburban experience, the joke is they have the same issues as everyone else. The politically correct thing would have been to have everyone get along with them. But there's a lot of comedy to be played against type…We're having fun with them. I hope to keep them as long as I can."
Tuc Watkins and Kevin Rahm, who play the couple, chimed in as well.
Watkins: "Marc should be applauded for creating gay characters who aren't issue-oriented. A lot of the time, gay characters are known through issues — coming out or health problems. "There are a few cliché gay jokes on Desperate Housewives. But Bob and Lee aren't stereotypical. They have horrible taste. They have a sense of humor. They're a little mean. They're certainly not PC."
Rahm: "Tuc's character wants to be the good guy, to be part of the community. What's great about Lee is there's no filter on the stuff he says about the suburbs or what he says to other people. It's a great dynamic."
'Desperate' to prove a point about gay couples [usa today]
Recently…
Desperate Housewives: Gay Couple Arrives on Wisteria Lane [tr]
Desperate Housewives' New Gay Couple Erects Fountain Art [tr]
Desperate Housewives' Gay Couple Goes Trick or Treating [tr]>