Openly gay Vallejo, California Councilman Gary Cloutier was declared the "unofficial winner" in the city's tight mayoral race on Tuesday, just hours after he apologized for an embarrassing weekend public intoxication arrest in Palm Springs.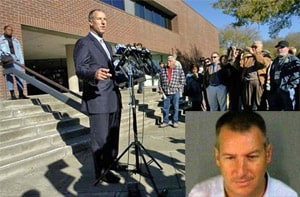 The Vallejo Times-Herald reports, "The 45-year-old Cloutier, who has served on the council since 1999, was arrested early Sunday after officers found him sitting alone in the driver's seat of a friend's Cadillac in Palm Springs. Police said he was clearly intoxicated, and was pulling out of his parking spot when stopped. He was not, however, charged with an attempted DUI. Cloutier said [yesterday] morning he made a mistake 'I deeply regret' and also said, 'I accept full responsibility for my actions and make no excuses.' He said he will work hard to restore confidence that his friends and colleagues may have lost in him. He said 'thank you' and wished everyone a happy Thanksgiving."
Two hours later, election officials declared Cloutier the winner in his neck-and-neck race against Osby Davis, according to the SF Chronicle: "Gary Cloutier beat former Solano County Supervisor Osby Davis by a hair-thin 5,722 to 5,718 votes, according to final results from the Nov. 6 election. Solano County Assistant Registrar of Voters Lindsey McWilliams said he expects to certify the results as final on Monday. The mayor's race had been a virtual dead heat since election day, when Cloutier and Davis were tied in their bids to lead the Bay Area's ninth-largest city."
Davis would have been Vallejo's first black mayor. Cloutier now appears to be the city's first gay mayor. Davis says he will ask for a recount.
Previously
Gay Vallejo Mayoral Candidate Arrested for Public Intoxication [tr]
Vallejo, California Mayoral Candidates Battle to Be a First for City [tr]
(image sf chronicle)