The FBI reported on Monday that hate crimes involving race, religion, sexual orientation, ethnic or national origin or physical or mental disability rose nearly eight percent last year.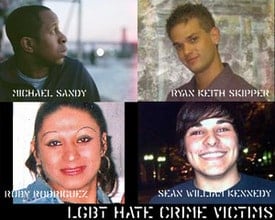 CNN reports: "As has been the case since the FBI began collecting hate crime data in 1991, the most frequent motivation was racial bias, accounting for 51.8 percent of the incidents in 2006. That was down slightly from the 54.7 percent in 2005. Also in 2006, religious bias was blamed for 18.9 percent of the incidents; sexual orientation bias for 15.5 percent, and ethnic or national origin for 12.7 percent. Of the 7,330 offenders identified by police, 58.6 percent were white, 20.6 percent were black, 12.9 percent were of unknown racial background and other races accounted for the remainder. The greatest percentage of incidents, 31 percent, occurred near residences or homes. Another 18 percent occurred on highways or streets, 12.2 percent at colleges or schools, 6.1 percent in parking lots or garages, 3.9 percent at churches, synagogues or temples. The remainder occurred at other specific locations, multiple locations or unknown locations. Lack of full participation by the more than 17,000 police agencies around the nation somewhat undermines year-to-year comparisons."
Last week, over 100 people attended the ribbon-cutting ceremony for the official launch of the Gay American Heroes Foundation at the Broward County Library. The newly-formed organization, which I wrote about back in August, is spearheading the construction of a traveling exhibit that would commemorate LGBT victims of hate crimes and raise awareness about the problem.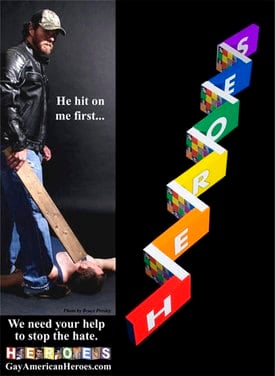 A scale model of the exhibit was unveiled which will display the word HEROES on six colored panels, stars, with the name, vocation, home state and date of death of each hero, and pictures of each hero on adjacent panels. All people viewing the exhibit will first enter an entrance where they can view video, see information regarding hate crimes in the USA, and offer their thoughts and blessings to those who have been murdered due to the sexual orientation or gender identity. At right is one of the group's marketing materials as well as a very simple, preliminary mock-up of how they intend the exhibit to look.
At the launch, Gay American Heroes raised $17,000 through a silent auction, private donations, a $5,000 donation from the National Gay and Lesbian Task Force, and its Adopt-a-Hero program in which donations can be made in the name of a specific hate crime victim. Present at the launch were Founder and President, Scott Hall, Chip Arndt, Board of Director, spokesperson and Director for Outreach and Finance, Jack Rutland, Board of Directors and Executive Director of Stonewall Library and Archives, David Cornell, Board of Directors and Development Director of Dade Community Foundation and The Reverend Grant Ford, Pastor of the Sunshine Cathedral.
Merrill Lynch came on board as the group's first corporate sponsor. To date, Barry University, Clemson University, Florida University, Harvard University, Nova University, Penn State, and Yale University have agreed to display the exhibit and the accompanying education exhibition on their respective campuses in 2008. The group's goal is to raise $75,000 in order to build the traveling exhibit.
The group also has a Facebook group and a MySpace page.
As I noted previously, I have agreed to serve as an honorary board member for the non-profit, along with many others.
Previously
Exclusive: National Memorial for LGBT Hate Crime Victims Launches [tr]