Right-wing religious groups the National Organization for Marriage and the N.J. Family Policy Council have launched a hard-hitting campaign in New Jersey to try "to block an effort to legalize same-sex marriage during the lame-duck session of the Legislature that ends Jan. 8, when new lawmakers are sworn," according to the New Jersey Star-Ledger: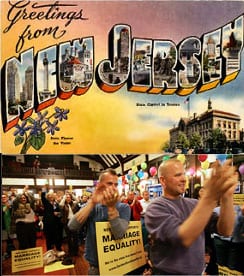 "Senate President Richard Codey (D-Essex) yesterday said no vote on same-sex marriage will be taken during lame duck, but those who fear it had succeeded in tying up his phone lines. 'At this point, they're just wasting their money with the phone calls. Somebody's giving them bad information,' Codey said. 'It's jamming our phone lines and we can't do our work here.' He said his office got as many as 200 calls per hour. Corzine's office got 133 calls yesterday while Assembly Speaker Joseph Roberts (D-Camden) got about 200, according to their press secretaries. Brigid Harrison, a professor of political science and law at Montclair State University, said the anti-gay marriage campaign may be aimed not just at lawmakers, but at voters casting their ballots in the presidential primary on Feb. 5."
NOM has begun airing a hideous attack ad as well, on New Jersey radio stations. I've transcribed it below.
**BEGIN TRANSCRIPT**
VOICE: "If we change the definition of marriage…"
LITTLE GIRL: " Grandma, my teacher said if Grandpa was a girl, that's okay. You can still be married!
VOICE: "…our kids will be taught a new way of thinking."
LITTLE GIRL: "God creating Adam and Eve? That was so old fashioned."
VOICE: "And soon, they'll be thinking the unthinkable."
LITTLE BOY: "If my dad married a man, who would be my mom?"
VOICE: "Powerful special interest groups want to redefine marriage in New Jersey. They want your tax dollars to teach your kids and grandkids that your idea of marriage is just bigoted. They also want to penalize traditional New Jersey churches with threats to state tax exemptions and adoption licenses. And they don't want you to have a chance to vote. These are the same NJ politicians that can't cut taxes, end corruption, or pay for pension promises….But they have time to mess with gay marriage? Visit NationforMarriage.org and send a clear message. NO on gay marriage. And let the people decide. Please, do it right away. That's nationformarriage.org."
LITTLE GIRL: "I want a mommy and a daddy!"
**END TRANSCRIPT**
Listen to it here.
You may have missed…
Ads Hit the Air in New Jersey in Push for Marriage Equality [tr]
NJ Voters Comfortable with Civil Unions, Split on Same-Sex Marriage [tr]