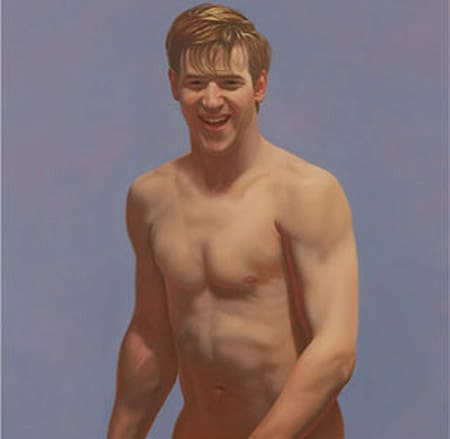 Must be the month for nude hockey players. Earlier in the month Toronto Maple Leaf Jiri Tlusty flashed his bits over the internet, and now a NYC exhibition is making headlines for its paintings of hockey players in the buff.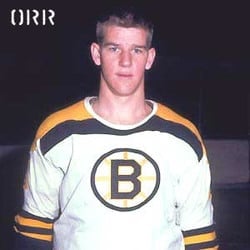 Kurt Kauper's exhibit "Everybody Knew That Canadians Were The Best Hockey Players" features portraits, some entirely nude, of former Boston Bruins players Bobby Orr (above, and pictured here, back in the day), Derek Sanderson, and others.
Of the paintings, Kauper told the Boston Globe: "Inspiration struck after a visit to Paris. There, Kauper saw one of his favorite works, a 19th-century image of Napoleon ascending to heaven by Jean-Auguste-Dominique Ingres. In the work, the French general is nude. You certainly couldn't do that nowadays – represent a cultural icon in the nude as a gesture of adoration and immortalization," said Kauper. 'That gets to how nudity is perceived today. It occurred to me that it would be interesting to try to make a painting of an icon in the nude and see what kind of response I got from viewers.'"
The reaction from players has been mixed. Said former Bruin Brad Park: "I see a picture of Bobby with some genitals, and a picture of Turk with some genitals. That's hard to take. I definitely would think Bobby would be uncomfortable with it. Derek, in his heyday, would have posed for it."
Discomfort is part of the point, however, said Deborah Kass, a curator who has worked with Kauper: "He takes these people we identify and idolize and presents them at their most stripped down, and because it's a male nude it makes people incredibly uneasy. I really don't know anybody else who is doing that."
The installation can be viewed here. See the full Bobby Orr, after the jump…
The show runs through December 15th at Deitch, 76 Grand Street, New York.
In artist's vision, an icon in the flesh [boston globe]
Deitch Gallery [official site]
Heeeeeeere's Bobby! (NSFW)
Related
Toronto Maple Leafs and Jiri Tlusty Respond to Nude, 'Gay' Photos [tr]
NHL Toronto Maple Leaf Rookie Jiri Tlusty: "I am Not Gay" [tr]
Tom Cavanagh: Kissing a Man? No Problem [tr]
Professional Hockey, Gays, and the "Ex-Gays" Who Hate Them [tr]