The Rocky Mountain News notes that Mitt Romney "drew mild boos and hisses" at an appearance at Luther College in Decorah, Iowa yesterday as he thought he'd make clear that of the leading candidates, he's the greatest protector of marriage.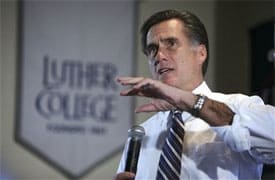 Said Romney: "For those who are not familiar with it, of the four nationally leading candidates for president – and I count myself as one of those, but also Mayor (Rudy) Giuliani, and Sen. (John) McCain and (former Sen.) Fred Thompson – there's only one of us who's in favor of a federal amendment to the constitution to limit marriage to the relationship between a man and a woman. And that's me…I feel very strongly about this because, as I said earlier, I believe that maintaining the strength of the marriage relationship, the family relationship, is critical to the strength of an entire society"
The paper notes that Mike Huckabee, who has had a recent surge in the polls but still doesn't break the top four, also supports the anti-gay amendment.
Huckabee's spokesman responded to the claim: "If he's defining who the top four are and tailoring his remarks to fit that situation, sure. I think he's doing what he's very good at, and that's parsing his answers to suit the audience."