Comments by Morrissey on immigration in the most recent issue of NME amount to "character assassination" according to the singer's lawyers, who are reportedly threatening to sue the publication. Additional details of the legal action have not been revealed.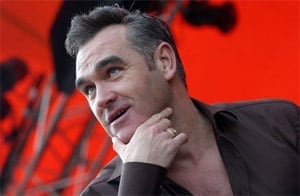 Morrissey's comments, some of which I posted yesterday, read: "With the issue of immigration, it's very difficult because, although I don't have anything against people from other countries, the higher the influx into England the more the British identity disappears. If you walk through Knightsbridge on any bland day of the week you won't hear an English accent. You'll hear every accent under the sun apart from the British accent."
Morrissey "expressed concern at how his previous comments could be interpreted" according to the Guardian, and conducted a follow-up interview, in which he said: "I just think that it would be construed that the reason I wouldn't wish to live in England is the immigration explosion. And that's not true at all."
The controversy has sparked a war of words between the former Smiths frontman and the publication, while the article's author Tim Jonze has requested that his byline be removed from everything but the Q&A, claiming dissatisfaction over the magazine's final edit.
Morrissey demands apology from NME [guardian]
Recently
Morrissey Shuns England Over "Immigration Explosion" [tr]