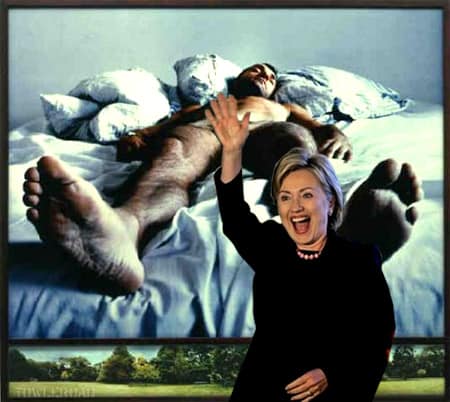 Photographer Sam Taylor-Wood's "Soliloquy VII" was conspicuously absent from the wall at a fundraiser for Hillary Clinton at the home of "elite Democrats" Tony and Heather Podesta, the Washington Post reports:
"The huge photograph of the nude man was missing from its usual spot on the living room wall, and some guests concluded that politically correct Clintonites had demanded that the naked guy disappear. … 'It's an iconic photograph in political fundraising circles,' Tony Podesta told us yesterday. The $250,000 picture made quite a backdrop at a fundraiser for Clinton's Senate campaign, where the official photographer spent the night with his back to the art to prevent her from appearing in a shot with the naked guy. 'She teases me about it all the time,' said Podesta."
Podesta says the photograph was taken down for "conservation reasons".