Approximately one year following the New Jersey Supreme Court's ruling that the state must give same-sex couples the legal rights of marriage, a new poll finds voters comfortable with the civil union laws the legislature adopted, but split on how they feel about "marriage".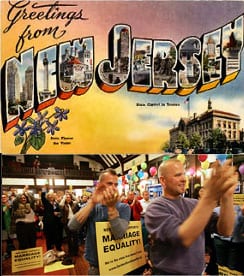 Asbury Park Press reports: "Overall, 48 percent of the adults who responded favored gay marriage, while 44 percent opposed it. Nearly three in five people between 18 and 29 favor gay marriage, compared with about half of voters between 30 and 64, and one-third of those over 65. The poll also found that people personally close to gays and lesbians supported gay marriage at a higher rate than those who don't have gay friends or relatives. The telephone poll of 1,002 New Jersey adults, including 856 registered voters, was conducted from Oct. 18 to 23 and has a sampling error margin of plus or minus 3.1 percentage points."
Said polling director Tim Vercellotti: "Usually change is news. But in this case, no change in public opinion is the real news, given all that has happened in the past year. The consistency of public opinion on these issues suggests these are deeply held beliefs that do not shift easily."
Recent hearings by the New Jersey Civil Union Commission found that there is an inequality in the way employers treat civil unions vs the way they treat marriages.