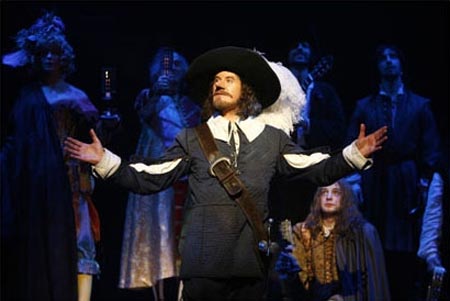 Please welcome Kevin Sessums, whom we interviewed on the site earlier this year when his memoir Mississippi Sissy was published. If you missed last week's posts, Kevin is now doing theater reviews for us, and you can find links to his prior reviews at the end of this post.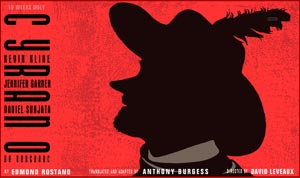 Those of you who read my last post on Rock 'n' Roll know how taken I was with Sinead Cusack's performance in dual roles in the play. My mind wandered to Cusack, in fact, while I was watching the latest Broadway incarnation of Cyrano de Bergerac. The production being staged by British director David Leveaux at the Richard Rodgers Theatre is the Anthony Burgess translation of the Edmond Rostand melodramatic warhorse. It was the Burgess version that was first done by the Royal Shakespeare Company in 1984, which starred Sir Derek Jacobi as Cyrano, he of the eloquent mouth and pronounced proboscis, and Cusack as the unrequited love of his life, his beautiful cousin Roxanne. For you theatre buffs out there, Jacobi and Cusack also starred in the RSC's production of Much Ado About Nothing that year on Broadway, which they performed in repertory with Cyrano, and each was nominated for a Tony for their Shakespearean turns — Jacobi as Benedick, Cusack as Beatrice — instead of their Rostand/Burgess romantic leads. Jacobi won for Best Actor, but Cusack lost the Best Actress award that year to Stockard Channing for her performance in A Day in the Death of Joe Egg.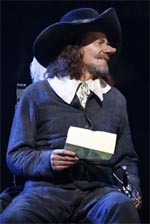 In this latest production, the great Kevin Kline is portraying Cyrano and Jennifer Garner is Roxanne. Cyrano's dying word is "panache" — indeed, the word did not come into use in the English language, I believe, until Rostand used it in his play — and most actors regard the word as the touchstone for their performances of the role. But Kline is doing something much more sly and sophisticated. He imbues his Cyrano with the world-weariness of an unattractive gentleman's most daring of acts — not swashbuckling, which comes so easily to him, but the difficulty of continuing to present such a debonair face to the world, a world that will not let him forget how ugly he is. There is nothing cartoonish about his portrayal — though he gets every one of his laughs and maybe even some Rostand and Burgess were not aware of. Kline's skill with language is exemplary. He deeply mines the role until he unearths its sad, magnificent dignity.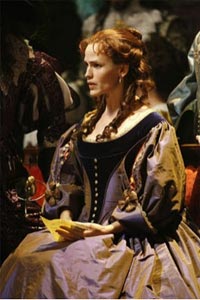 Garner's Roxanne is more problematic. Though she is ravishingly beautiful and acquits herself admirably in her Broadway debut, she does not have Kline's technique, and their scenes together — especially the play's final one — feel a bit lopsided. Leveaux does not so much direct her as he seems to have orchestrated her performance. There is often a Tallulah Bankheadish swoop to the lower register of her already husky voice that, at times, can sound a bit like Carol Burnett doing one of her actressy parodies. But, all in all, she holds her own with all the stage vets around her, which include Chris Sarandon (remember him as the transvestite in Dog Day Afternoon?), Concetta Tomei (remember her as the doctor in the premiere of Larry Kramer's The Normal Heart at The Public Theatre?), Euan Morton (remember him as the much more beautiful Boy George stand-in in Taboo?), and Daniel Sunjata (I'm sure you remember him as the star of Take Me Out as the stud baseball player who comes out of the closet as well as showers onstage).
Leveaux has become known for prettifying his productions. His set designer on this one is Tom Pye and his lighting designer Don Holder. There is always a shelter magazine quality to the look of his productions — more Dwell magazine perhaps than Architectural Digest — but they are always pleasing to the eye. Cyrano is no exception. If your own mind wanders from time to time maybe you can take some decorating tips home from the experience. But that might be too sly and sophisticated a response to this finely honed production of such an old-fashioned play.
T T 1/2 (out of four possible Ts)
Cyrano de Bergerac, Richard Rodgers Theatre, 226 West 46th Street, New York. Ticket information here.
Recent Reviews
On the Stage: Tom Stoppard's Rock 'n' Roll [tr]
On the Stage: Tom Stoppard's Rock 'n' Roll and Fuerzabruta [tr]
On the Stage: Black Watch [tr]