Archbishop Desmond Tutu, who has been vocal of late in his criticism of the Anglican church and its homophobic policies towards gays, told BBC Radio Manchester's Gay Hour that he's sorry for the way that the church has treated gay people in the past.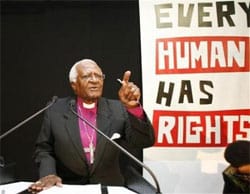 Said Tutu: "I want to apologise to you and to all those who we in the church have persecuted. I'm sorry that we have been part of the persecution of a particular group. For me that is quite un-Christ like and, for that reason, it is unacceptable. May be even as a retired Archbishop I probably have, to some extent, a kind of authority but apart from anything let me say for myself and anyone who might want to align themselves with me, I'm sorry. I'm sorry for the hurt, for the rejection, for the anguish that we have caused to such as yourselves."
Tutu recently called the church "extraordinarily homophobic" and "obsessed with questions of human sexuality" and continues to blast it over its rift with the Episcopal branch.