A man in Chicago was assaulted at a party and then stalked by his attacker, 43-year-old Felipe Rivera, who waited outside for him and followed him to a basement staircase where he then raped, assaulted, and sodomized the victim with a broomstick, authorities say.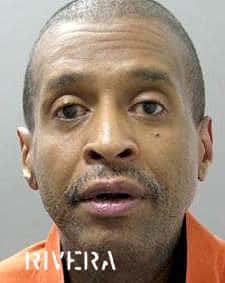 Why did he do this? Because the victim winked at him at the party and then, allegedly, propositioned him. The victim denies propositioning his attacker, according to the Chicago Sun-Times.
"According to a spokesman for Cicero police, Rivera and the victim encountered each other at a party Friday night in the 1200 block of South 50th Avenue. 'Mr. Rivera got upset apparently because he believed the victim, No. 1, didn't respond to a female and then, No. 2, somehow winked at him — made what he perceived as a sexual advance," said Cicero police spokesman Dan Proft. Rivera then punched the victim in the face, Proft said, and was asked to leave the party. He allegedly waited outside for the victim. According to Rivera, the victim, 37, then propositioned Rivera for a sex act — a claim the victim denies, Proft said. Rivera followed the victim to the outer staircase of a basement apartment, where he removed the victim's pants and raped him, authorities said. Afterward, Rivera punched the victim in the head, leaving him semi-conscious, then inserted a metal broom handle in the victim's rectum, sources said. Rivera gave police these details in a videotaped statement, according to Proft. When asked why he did it, Rivera allegedly said it was 'because he hates f – – – – – s, and this is what they get,' according to Proft. A spokesman for the state's attorney said Rivera also shouted 'sexually oriented derogatory comments' during the rape."
Rivera reportedly fled to his mother's home. Mom turned him in, as she has an order of protection against him.
Rivera has been charged with a hate crime as well as aggravated criminal sexual assault and other offenses and could face 30 years in prison. He's being held on $400,000 bond.
Alleged gay advance cited in rape [chicago sun times]