CLOSET OF FEAR: Congressional candidate Jared Polis discusses his trip to Iraq and his attempts to meet with gay Iraqis there.

New poll shows Hillary Clinton losing lead in New Hampshire. Final debates before Iowa – Republicans tonight, Democrats tomorrow – will prove critical.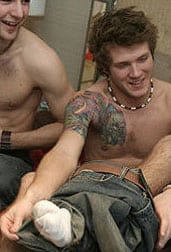 McFly: the Brit boyband we've featured four times already for taking off their clothes in public, have done it ONCE AGAIN. Strangely enough, I don't think I've heard any of their songs.

Gay historian Allan Berube dies at 61: "Berube is best remembered for his groundbreaking work of gay history, Coming Out Under Fire: The History of Gay Men and Women in World War II, published in 1990. The Lambda Literary Award–winning book was later adapted by Arthur Dong into a Peabody Award–winning documentary and was often cited in 1993 Senate hearings on the military's ban on gay service members." More from Servicemen's Legal Defense Network…

One hundred million pennies laid out in Rockefeller Center in New York: "The exhibit, 30 feet by 165 feet, as long as a city block, is the culmination of the nonprofit organization Common Cents' 17th annual Penny Harvest, a national educational program designed to teach children about their value as contributors to society."

David Cooley, owner of West Hollywood's The Abbey bar and restaurant, ready to take it national: "Cooley intends to build Abbeys in cities across the country, and has spent much of the past year scouting locations including San Diego, Phoenix, Miami, New York City, Chicago, Atlanta, San Francisco, and Las Vegas; the plan is for the first new Abbey to open in Chicago within a year."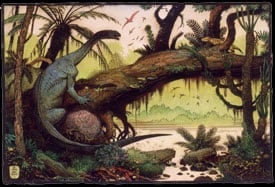 Scientists discover massive new Antarctic dinosaur: 25 feet long, climbed trees.

Humans evolving rapidly according to researchers: "Many of the recent genetic changes reflect differences in the human diet brought on by agriculture, as well as resistance to epidemic diseases that became mass killers following the growth of human civilizations, the researchers said. For example, Africans have new genes providing resistance to malaria. In Europeans, there is a gene that makes them better able to digest milk as adults. In Asians, there is a gene that makes ear wax more dry. The changes have been driven by the colossal growth in the human population — from a few million to 6.5 billion in the past 10,000 years — with people moving into new environments to which they needed to adapt, added Henry Harpending, a University of Utah anthropologist."

Ireland to ban incandescent light bulbs by the year 2009.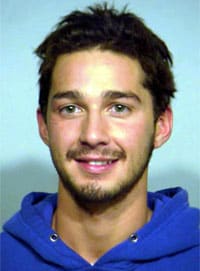 Shia LeBeouf gets off.

Sacha Baron Cohen obsessed with big packages: "Of the many surprises in Sweeney Todd, Tim Burton's musical ode to early-Victorian cannibalism, the appearance of Sacha Baron Cohen as barber rival Adolfo Pirelli is one of the most pleasant: The British comedian ably tackles the part's considerable vocal challenges, and cuts a fine figure in a form-fitting, periwinkle dandy suit, beneath which protrudes a bulge even more distractingly prominent than the one poking out of Borat's signature neon nutthong swimwear."

Former CIA interrogator on torture: "This isn't something done willy nilly. It's not something that an agency officer just wakes up in the morning and decides he's going to carry out an enhanced technique on a prisoner. This was a policy made at the White House, with concurrence from the National Security Council and Justice Department."

In honor of the Cycle 9 finale of America's Next Top Model tonight, NewNowNext rounds up the show's most pro-gay and just gay moments. Meanwhile, AfterElton looks at the year in gay television.