Please welcome Robbie Daw, who will be penning weekly music posts for us here on Towleroad! Robbie runs his own pop music site called Chart Rigger.
Yesterday saw the release of the new Scissor Sisters' documentary and concert DVD Hurrah: A Year Of Ta-Dah, and the band — in this case Babydaddy — made sure to thank Towleroad and its readers for supporting them thus far.
Hurrah features a full 90-minute concert recorded at London's O2 Arena, as well as an hour-long documentary that follows the band on their recent world tour. In an interview with Gay.com, Jake Shears had this to say about the DVD: "It's the first time fans have seen us on our own terms, in our natural environment. And it's a really great picture of what it's like on the road. I think there are some preconceptions about us that will be demystified. I can only speak for myself, that people might have preconceived notions of what I'm like personally. It could be different than what people actually might think. Some people think I'm on 100 percent of the time, but that's only 50 percent true."

In what might be a very un-rock 'n' roll move, Gibson unveiled its self-tuning Robot Guitar (pictured right) this week, which retails around $2,300. A Les Paul guitar from the company, sans self-tuning, goes for about $1,400. Product review site CNet is quick to point out the downside of the instrument.

Robbie Williams has never made it a secret that he detested the time he spent in 90's boyband Take That, but a song on his last solo album about Nigel Martin Smith, the group's former manager, has landed the singer in hot water to the tune of £500,000, or roughly $1 million.

See if you're already up on any of Rolling Stone's 10 Artists To Watch For In 2008.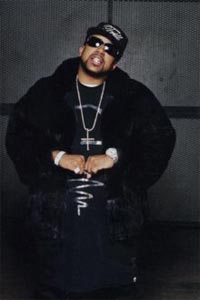 Rapper Chad "Pimp C" Butler, one half of duo Underground Kingz (or UGK), was found dead in L.A.'s Mondrian Hotel yesterday. UGK were probably best known by mainstream audiences for their appearance on Jay-Z's 2000 hit, "Big Pimpin'." Bun B, Chad's UGK partner, guested on Beyoncé's 2006 #1-charting single, "Check Up On It." In a statement, Jive Records CEO Barry Weiss said, "We mourn the unexpected loss of Chad. He was truly a thoughtful and kind-hearted person. He will be remembered for his talent and profound influence as a pioneer in bringing southern rap to the forefront. He will be missed and our prayers remain with his family and Bun B. I've known Chad since he was 18, and we loved him dearly and he was a cherished member of the Jive family." Earlier this year in the pages of Ozone magazine Pimp C called Russell Simmons "ol' dick-in-the-booty" and R&B star Ne-Yo an "Old Gay Ass." He later attempted to rescind the comments, Stereohyped reported, but wasn't so successful. Said Pimp C: "That statement about Russell Simmons had nothing to do with his sexual orientation. It had more to do with a disagreement [we had]. I don't know if the man likes Martians, squirrels or whatever, so I ain't gonna speak on something that I didn't see. It's no gay-bashing with me. It's just, be proud of what you are, instead of hidin' in the closet. And if ya fuck boys in the ass, then don't be tryna fuck with the girls, too, poisoning the pussy population wit' ya shitty ol' dirty-ass dick."

Some folks caught David Beckham, who has apparently taken up photography, at last night's Spice Girls gig in San Jose, California: "David slipped in after the show had started and took a seat in the front row, right next to the stage. He tried to disguise himself by pulling a blue baseball cap over his face but you couldn't miss him or his huge camera. Everyone around him was on their feet dancing and cheering but David kept his bum on the seat to steady his shots."

Perhaps the writing's on the wall? This week, 2007 American Idol runner-up Blake Lewis' album was released. Meanwhile, AI winner Jordin Sparks' self-titled debut drops from #10 to #18 on Billboard's album chart after only two weeks.

Whitney Houston performed "I Will Always Love You" and "Heartbreak Hotel" at the Live And Loud festival in Kuala Lumpur, Malaysia last week. You can watch clips here.


THIS WEEK'S NEW RELEASES: (Another unusually slow week for the holiday shopping season.)
The two-disc Rufus Wainwright Does Judy At Carnegie Hall, which features a 36-piece orchestra and a recreation of Judy Garland's legendary 1961 concert.
Nelly Furtado's live Loose: The Concert, which is also available on DVD.
Rockin' indie. girl group Bat For Lashes' "What's A Girl To Do?" EP, which also features the quirky video.
Hits sets from country star Trace Adkins (American Man: Greatest Hits, Vol II) and the ever-posthumously-prolific 2Pac (The Best Of 2Pac, Pt. 1: Thug and Pt. 2: Life).
Glass Candy's upbeat, electro-charged B/E/A/T/B/O/X.