Leon Jackson won Britain's X-Factor talent show over favorite Rhydian (who recently gave an interview in which he denied being gay but admitted being a virgin) after pulling out a secret gay weapon — a duet of Better the Devil You Know with Kylie Minogue. These are just two of a few songs they sang in the final.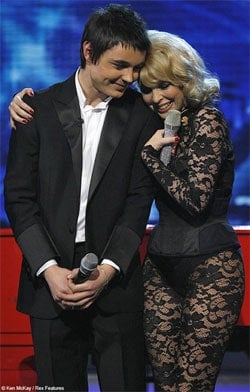 Reuters reports: "The 18-year-old won a million pound recording contract after beating the runaway favourite, Rhydian Roberts, in the reality TV show final on Saturday. 'It's not real,' Jackson said, choking back tears after winning a public vote. 'It just means the world to pursue this because I love singing. I knew I could change my mum's life and I've just done it.' Scotland's First Minister Alex Salmond said it was a 'fantastic victory for Leon and Scotland'. Jackson, a jazzy crooner who used to work in a clothes shop, had been expected to lose to Roberts, from Wales. [Bookie] Ladbrokes said the upset had saved them from a huge payout. 'Leon's win is the biggest shock in the history of reality TV betting,' said spokesman Nick Weinberg. 'He will definitely be top of our Christmas card list.'"
The Daily Mail reports that Team Rhydian is pissed because they say the phone lines were blocked.
Meanwhile, Wales on Sunday reports that Simon Cowell and Andrew Lloyd Webber are battling over Rhydian's future:
"Sir Andrew was due to seal his support last night in a special pre-recorded message broadcast as part of the final, in which viewers saw the Welsh singing sensation sing Christmas ballad O Holy Night, West Side Story classic Somewhere and You Raise Me Up with Katherine Jenkins. But we can reveal how the theatre legend has been secretly texting Rhydian on his mobile phone as he prepares to cast a new Broadway version of The Phantom of the Opera, called The Phantom of Manhattan." Yikes, though given Rhydian's unusual look, it doesn't seem too far out of the ballpark.
And finally, "While the victor is virtually guaranteed the coveted Christmas number 1 with the release of their version of Mariah Carey's "When You Believe", the programme's real winner, is of course, Simon Cowell. The 48-year-old judge, who co-produces and owns the rights to the hit show, stands to earn an incredible £7.5million from the series."
You may have missed…
X-Factor's Rhydian: I'm Not Gay, But I am a Virgin [tr]
Towleroad Guide to the Tube #209 [tr]
Rhydian the Rugby Player [tr]