Tonight is the Global Orgasm for Peace: Join it.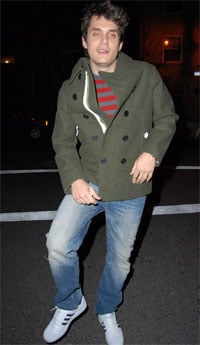 Eating at The Waverly Inn in NYC is so much fun it has John Mayer dancing a jig.

Scottsdale police seek leads in gay bashings that occurred in December 2006 and July 2007: "Detectives have investigated all leads to date but have not been able to establish probable cause for any arrests. We are encouraging help from the community to advance the cases."

Mitt Romney's claim that his father marched with Martin Luther King is apparently a complete sham. What a surprise: "He has repeated the claim several times recently, most prominently to Tim Russert on Meet the Press . But, while the late George W. Romney, a four-term governor of Michigan, can lay claim to a strong record on civil rights, the Phoenix can find no evidence that the senior Romney actually marched with King, nor anything in the public record suggesting that he ever claimed to do so. Nor did Mitt Romney ever previously claim that this took place, until long after his father passed away in 1995 — not even when defending accusations of the Mormon church's discriminatory past during his 1994 Senate campaign." Romney says he meant it in a 'figurative' sense. Right.

Gay Iranian teen waits on Dutch court decision to deport him back to his home country, where we know what he may face.

Hillary Clinton launches two websites intended to expose Barack Obama's "present" votes: "Clinton has attacked Obama for having occasionally voted 'present' (rather than yes or no) as an Illinois state legislator when it came to contentious legislation. It was a legislative maneuver that was sometimes part of a plan by Democrats to give cover to vulnerable colleagues, though in some instances it appears that Obama voted present to avoid taking a position with some political risk — such as with a bill that would have allowed children as young as 15 who committed crimes with firearms on or near school property to be prosecuted as adults." More on Obama's "present" votes here.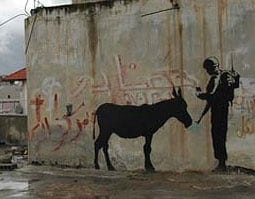 Bethlehem residents paint over Banksy graffiti on West Bank wall: "…the irony behind the depiction of an Israeli soldier checking a donkey's identity papers was lost on some residents, who found it offensive. 'We're humans here, not donkeys,' said Nasri Canavati, a restaurateur. 'This is insulting. I'm glad it was painted over.' To be called a donkey in Palestinian society is similar to being called an idiot."

Former adult film star-turned fashion designer Raymond Dragon returns to the swimwear fold with new line.

An update on the most publicly trashy famous family in America. And a special figurine just in time for Christmas.

Court hears confession of man who dealt fatal blow to researcher of homophobic crime for Metropolitan Police in Britain: "The blow to his face on the evening of September 11 tore an artery at the base of Mr Hoare's brain which caused a fatal swelling. Today (Dec 20) Kingshott, of Maskells Court, Victoria Road, Charlton, admitted manslaughter during a brief hearing at the Old Bailey. On the night of the fatal attack Mr Hoare, a market researcher, had been drinking in the White Swan pub in Charlton village where he had suffered homophobic abuse. He was later found unconscious in the park and died shortly after being taken to Queen Elizabeth Hospital in Woolwich."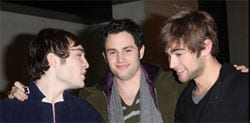 Wardrobe malfunction as Gossip Guys make TRL appearance.

Female British teen punished for brutal 'chair leg' attacks on two lesbians: "The catalogue of abuse took place last year, starting with a vicious attack in July when a 20-year-old man and two teenage girls armed themselves with wooden chair legs and rained blows on the two women until they were barely conscious. Lake, of John Street, Southampton, has already been given a community punishment order for her role in that attack. She has now been sentenced to a six-month prison sentence, suspended for two years, for further harassment and abuse against the couple. Lake, along with a 15-year-old girl who cannot be identified for legal reasons, denied charges of harassment relating to eight incidents but magistrates found them guilty following a trial."