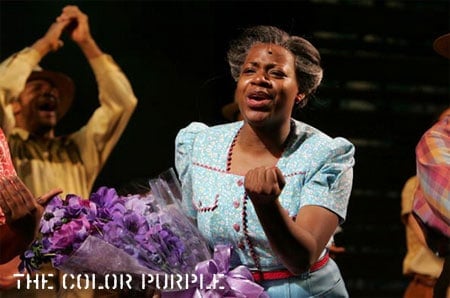 Please welcome Kevin Sessums, who last reviewed Doris and Darlene and The Homecoming for Towleroad. You can also catch up with Kevin at his own blog at MississippiSissy.com.
I've been writing about several serious plays recently so I thought I'd recommend a few long-running musicals that would be fun to attend over the next couple of holiday weeks — though one does deal with the rather serious issues of rape, racial injustice, and spousal abuse.
First, however, let me thank the readers who caught two mistakes in my last two reviews. One was a typo — I referred to how "music tames the savage beast" instead of "the savage breast" — making Congreve roll in his grave and some Towleroad readers roll their eyes. The other was a careless mistake on my part as I rushed to post the reviews. I confused Wagner with Liszt and the former's "Liebestod" with the latter's "Liebestraum." So thanks for catching that and keeping me on my pretentious toes. Mr. Towle has him some tough-ass intellectuals out there. Keep fact-checking me.
Now on to the fun.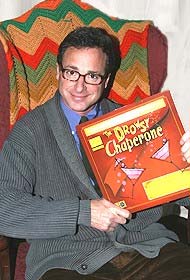 If you haven't seen The Drowsy Chaperone yet don't let the knowledge that Bob Saget is now starring as the show's narrator known as 'Man in Chair' scare you off. He's doing a bang-up and touching take on the gay chap who lives alone in his ramshackle apartment with his love of old Broadway musicals as his only company while one campy 1920s one, his favorite and hence the musical's title, is acted out and danced and sung in front of him with hilarious results. The show is still in good shape and is a delightful 90 minutes of clever intermissionless mayhem.
As a sidebar, Saget's down-and-dirtier self (which was on such full display in the film of The Aristocrats) was also on display at the New Amsterdam Theatre this week at the Gypsy of the Year contest for which he was the co-host with Jackie Hoffman and Mary Testa. Indeed, each time Saget had to mention the musical Curtains he would motion toward Hoffmans's set there at her crotch level, which caused Hoffman — part Fanny Brice, part Bette Midler, part that other Hoffman, Dustin — to mug and melt all at the same time. The opening of this version of Gypsy of the Year — at which it was announced that Broadway Cares/Equity Fights Aids had raised 3.9 million dollars through donations from audiences at off-Broadway, Broadway, and national productions and during which an assortment of chorus members from different shows choreograph their own production numbers — opened with a 50th anniversary of celebration of the premiere of West Side Story.
Continued AFTER THE JUMP…West Side Story reunion, Xanadu, The Color Purple…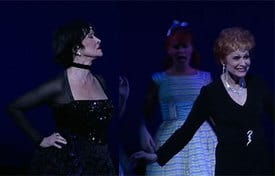 As an array of current gypsies danced to the soaring strains of Leonard Bernstein's score they were joined onstage by many of the surviving cast members of the original 1957 production, including Carol Lawrence and Chita Rivera who sang their famous duet "A Boy Like That/I Have a Love" before Rivera led the dancers in her famous "At The Gym (Mambo)" show-stopping number. It was thrilling.
At the end of the afternoon, a spotlight hit a young man sitting at a grand piano at centerstage along with a lone cellist and Rivera came back out to introduce us to Reri Grist, who had been the young Spanish Harlem girl back in 1957 who sang "Somewhere" from the pit. Now in her 70s, Grist strode onto the stage in a black glittering gown and had the chance finally for the very first time to sing the song from the stage as, at the end of the number, she was joined onstage by her original cast members who sang the last stanza with her until her voice alone unwaveringly wafted out into the New Amsterdam after that famed last chord of the song was struck as if in memory of Bernstein and Jerome Robbins and dear Larry Kert, the original Tony who died of AIDS-related complications in 1991, and so many others who have passed on. Lawrence and Rivera and most of the rest of the cast — as well as so many of us in the audience — couldn't help ourselves — we were all in tears as they took their bows and we shouted in appreciation for the history they had allowed us to be a part of.
The Drowsy Chaperone is certainly no West Side Story, but many of the audience members around you at the Marriot Marquis Theatre, if you choose to check it out, might just be crying from laughter. And, as I said, Saget is showing his sweeter side as he did at the Gypsy of the Year contest when he marveled — yes, misty-eyed — at how moved he was to share a stage with those West Side Story survivors.
T T T (out of 4 possible T's)
The Drowsy Chaperone, The Marquis Theatre, 1535 Broadway, New York. Ticket information here.
You can watch some SPECTACULAR video of the West Side Story reunion performance at Broadway World. Above is some YouTube footage as well, of the rehearsals,
***
XANADU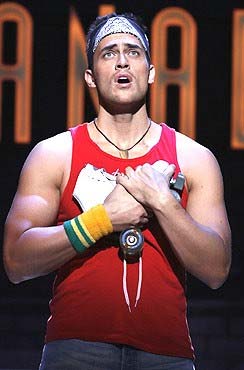 Hoffman and Testa are tearing up the boards as two Greek broads — the muses Calliope and Melpomene, respectively — in the knowing, over-the-top stage musical adaptation of the Olivia Newton-John movie, Xanadu at the Helen Hayes Theatre — or, as it is described in the production itself, "children's theatre for gay men." Kerry Butler is a delight in the Newton-John role and Cheyenne Jackson as her love interest (who also seems to co-star with his giant thighs in a pair of extra-short cut-off jean shorts which he wears throughout the show) pulls off a difficult theatrical hat trick — he's butch and camp and cuddly all at the same time. Xanadu is the surprise hit of the theatre season for good reason. Its book is by Douglas Carter Beane who's scored before in the just-sophisticated-enough laughs department with his plays The Little Dog Laughed and As Bees in Honey Drown. His kids, Cooper and Gabrielle, must have had just as good a time at this show as his partner, Lewis. Xanadu is a family show for tourist families and new-fangled ones alike.
T T T (out of 4 possible T's)
Xanadu, Helen Hayes Theatre, 240 West 44th Street, New York. Ticket information here.
***
THE COLOR PURPLE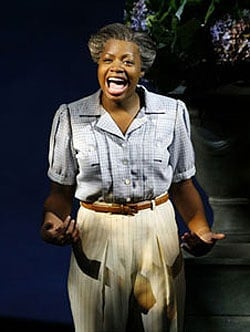 Now for that socially conscious musical, the adaptation of Alice Walker's The Color Purple. I loved the novel when I read it — twice — as a young man, but was never a fan of the Steven Spielberg movie. The latter was too Song of the South for my tastes — though I did love Oprah Winfrey as Sophia and thought Whoopie Goldberg had her moments as Celie. I saw this at times treacly musical version — presented by Miss Winfrey as it's lead producer — when it first opened and thought its first Celie — LaChanze, who won a Tony for her performance — was outstanding as well. But nothing prepared me for the galvanic force that is Fantasia in the role. She is nothing short of miraculous. I had read her reviews and heard the word-of-mouth about how good she was. And I had been impressed by several of her performances on American Idol — especially her rendition of "Summertime." But to see her in this role — she's only in it for these two holiday weeks before she leaves the production — is to witness one of the greatest performances ever offered in the musical theatre.
Now, don't roll your eyes like those savage beasts out there in cyberspace with those savage breasts of theirs that need soothing. Trust me. Get your asses to The Broadway Theatre and witness it for yourself. As an actress, she's certainly better than Merman or Lansbury were in Gypsy. I can't vouch for Merman's legendary performance, but I did see Lansbury's in 1974 and can rate Fantasia's Celie even higher than Angela's Mama Rose — and Fantasia's own 11 O'Clock Number, "I'm Here," rates right up there with "Rose's Turn."
I know Fantasia has been derided — rightly so — for missing so many performances. But if she can work on her theatrical 8-shows-a-week stamina, there is nothing this woman can't do in the theatre. Every time I walk into The Broadway, I remember one of my early experiences of being blown away in New York by seeing Patti Lupone in Evita there. Lupone. Merman. Lansbury. After seeing Fantasia fully inhabit Miss Celie, I'd gladly place her in that pantheon even though she's only essayed this one role. I certainly hope there are more in her future. Believe me, I walked in a cynic. But I walked out a thankful fan. You don't often get to see a kind of innate greatness blossom in the perfect role. Maybe some day fifty years from now at a Gypsy of the Year contest — the kids from A Color Purple won this year's competition, by the way — Fantasia can stride out as a 70-year- old diva with a lone pianist and cellist and thrill another generation of theatre lovers with "I'm Here." I have no doubt she still will be.
T T T T – for Fantasia's performance …. T T 1/2 for the musical itself (out of 4 possible T's)
The Color Purple, Broadway Theatre, 1681 Broadway, New York. Ticket information here.
Recent reviews…
Doris and Darlene and The Homecoming [tr]
On the Stage: The Seafarer and August: Osage County [tr]
On the Stage: Trumpery [tr]
On the Stage: Make Me A Song, The Music of William Finn and The 25th Annual Putnam County Spelling Bee [tr]
On the Stage: Bad Jazz [tr]