Same-sex marriage foes are planning to mass at 11:30 am in Des Moines, Iowa today to demand that legislators begin debating the "Iowa Marriage Amendment".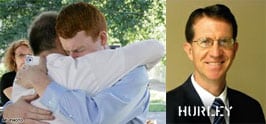 The rally is being organized by the Iowa Family Policy Center, according to the AP: "One of the rally's organizers is Chuck Hurley of the Iowa Family Policy Center (bigot headquarters). He wants the Legislature to debate soon. He says waiting is unfair to Iowans because it delays the start of a lengthy process to amend the Iowa Constitution."
Last August, Judge Robert Hanson ruled Iowa's same-sex marriage ban unconstitutional and ordered the Polk County recorder to begin issuing marriage certificates to same-sex couples. The ruling was stayed shortly thereafter, but not before college students Sean Fritz and Tim McQuillan (above) were issued the state's only same-sex marriage license.
Previously
Iowa Catholics Call for Same-Sex Marriage Ban [tr]
Iowa Group Moves to Impeach Judge Who Allowed Gay Marriages [tr]
Democratic Iowa Governor Chet Culver Supports Gay Marriage Ban [tr]
Two Men Married in Iowa's First Same-Sex Marriage [tr]