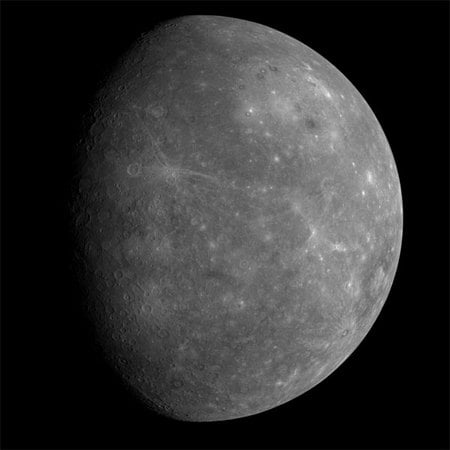 Two days ago, NASA's MESSENGER spacecraft was the second in history to make a pass by Mercury, the solar system's innermost planet. No such pass has been made for over 30 years, since Mariner 10's mission in the mid-70's, during which time the photographic technology was, of course, much less advanced. Also, at that time scientists were not able to photograph much of the planet's surface.
The new Mercury images show parts of the hemisphere never seen before, and there are more to come: "Other images obtained during the flyby will reveal surface features in color and in much more detail. Collectively, these images and measurements made by other MESSENGER instruments will soon provide a detailed global view of the surface of Mercury, yielding key information for understanding the formation and geologic history of the innermost planet."
While there are no erupting volcanoes, as far as space porn goes the views of the planet closest to the sun are still pretty hot (so to speak).
(high-res here)
You may have missed…
New Horizons Visits Jupiter and Io [tr]
Spaced Out [tr]
Giant Spider Attacks the Atlantis Space Shuttle [tr]
The ISS from Orbit [tr]